Kawasaki Receives First Order for New Gas Engine with World-leading Electrical Efficiency in Its Class of 51.0 Percent
Tokyo, November 16, 2020 — Kawasaki Heavy Industries, Ltd. announced today the receipt of an order from Itami Sangyo Co., Ltd. (Itami City, Hyogo Prefecture) for one unit of its new 7.5 MW gas engines equipped with two-stage turbocharging. This is the first order received for the KG-18-T Kawasaki Green Gas Engine, which was released into the market in June of this year, and the newly ordered engine is scheduled to enter commercial operation in April 2022.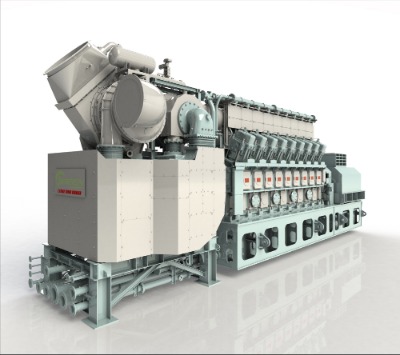 KG-18-T
Since its first order in 2011, the original model that the KG-18-T is based on has sold over 180 units, and this new model was developed to further boost its performance. It has an output of 7,800 kW at 50 Hz and 7,500 kW at 60 Hz and is equipped with newly developed two-stage turbocharging to achieve a 1.5% increase in electrical efficiency compared with existing Kawasaki models, giving it an electrical efficiency at the highest level in its output class worldwide of 51.0%.*1 NOx emissions are kept to 200 ppm*2 or less, and it is designed to meet the environmental performance requirements demanded by many Japanese cities. Furthermore, it offers excellent fast startup performance enabling the maximum output within five minutes of start order, contributing to optimal adjustments in response to grid fluctuation.
Itami Sangyo was founded in 1948 as a general trading company that serves general consumable goods. Primarily serving the Kinki area, which is located in the midwestern part of Japan, Itami Sangyo offers products used in daily life with central focus on liquefied petroleum gas (LPG), petroleum and rice. Through these efforts, the company contributes to local communities. Following liberalization of the electric power retail industry, the company also began supplying electric power to customers, and they currently operate seven mega solar plants and one gas engine power plant in Japan. Their latest project with Kawasaki will increase the capacity of their Hyogo-Kobe Gas Engine Power Station, which currently only has one KG-18-V Kawasaki Green Gas Engine (output: 7,500 kW / 60 Hz) which entered operation in 2018. Combined with the existing equipment, the newly added gas engine will ensure a reliable, company-owned power source capable of supplying 126 million kWh annually, which is enough to power approximately 35,000 households.
With the expanded introduction of renewable energy, a new electricity system, and efforts to strengthen power infrastructure in response to increasingly severe natural disasters, the environment in which the electric power industry operates is changing day by day. Kawasaki will continue to leverage the technologies and knowledge it has accumulated over the years to provide products and services based on customer needs, and through these efforts rapidly and proactively expand its energy and environmental business operations.
*1 Calculated using city gas in Japan (40.6 MJ/Nm3, methane number = 69)
*2 Converted at 0% O2