New Technology
Kawasaki's advanced technologies
Kawasaki Panel System
Panel Insulation system of cargo tank for MOSS type LNG carrier
Kawasaki Panel System is our own developed panel insulation system for spherical (MOSS type) and cylindrical cargo tank of LNG carrier.
Since the system was applied to the first Japanese-built large-scale LNG carrier "Golar Spirit" in 1981, there are the results and orders for 50 ships and more in this four half a century.
Features of Kawasaki Panel System
Reliable 2-layer structure
Flexible to various sizes and shapes of cargo tanks from large size spherical tank to small size cylindrical tank
Insulation performance is adjustable according to each ship's case
The highest insulation performance in the world (0.10% boil off rate per day)
Complete insulation work
Environmental friendly foaming agent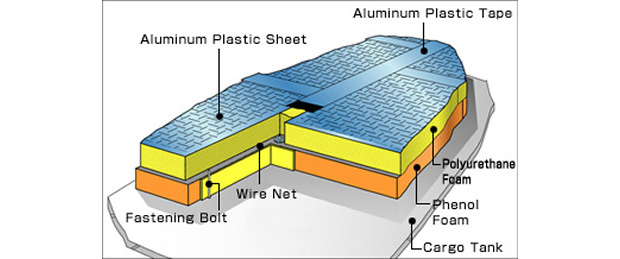 This insulation panel consists of 2 layers. The low temperature side (tank side) is the phenolic resin foam (PRF) with anti-crack performance under low temperature condition. The normal temperature side (outer side) is the polyurethane foam (PUF) with high insulation performance and easy insulation workability onboard. Foaming of PUF is carried out with environmental friendly HFC.
Outer surface of insulation panel is covered by aluminum plastic sheet to prevent water vapor invasion.
All insulation panels are integrated by the panels' reinforced wire net which is inserted between PUF and PRF layers. And insulation panels are fixed to the cargo tank by the fastening bolt and washer.
In case of 145,000m3 type LNG carrier, 6,000 insulation panels and 15,000 fastening bolt are used, and completed externals are amazed like huge UFO.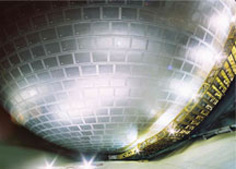 kawasaki URA Type Reheat Steam Turbin Plant
Improvement of energy consumption of steam turbine propulsion plant for LNG carrier Most LNG Carriers use the steam turbine plant for propulsion.
To make the performance of steam turbine propulsion plant for LNG Carriers much higher, we have developed "Kawasaki Advanced Reheat Plant (Kawasaki URA Plant)" with advantages as shown in the following.
Improve the plant efficiency by about 15%; the plant is based on reheat cycle, where the steam used in the turbine is re-heated to improve its efficiency in the later stages as well as the driving steam condition is improved.
Keep high reliability of steam turbine propulsion plant; the plant is based on proven technology established by Kawasaki's experience on reheat type steam turbines & boilers developed for oil tankers.
Simplify the operation; the plant is adopted with latest control technology "Integrated Automation System" (IAS), and less maintenance work is realized.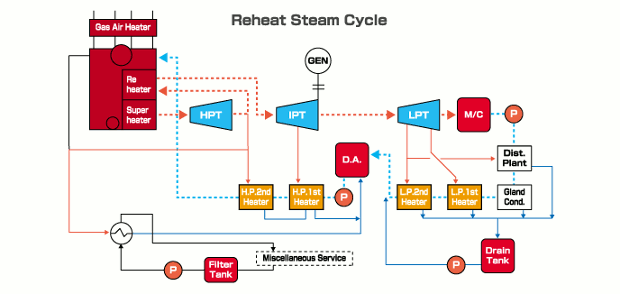 DFDE SYSTEM
Development of LNG carrier equipped with engines which can use two kinds of fuel, oil and gas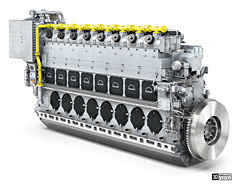 Steam turbine plant is conventionally adopted to LNG Carriers due to easy utilization of boil-off gas in the cargo tank. A steam turbine plant can burn boil-off gas in main boilers and generate steam by which a main turbine makes propulsion power. However, nowadays alternative propulsion plants are being developed a lot, and we also have been developing various plants. Now Kawasaki is developing a DFD electric propulsion system.
DFD (Dual Fuel Diesel) has such a name because it can burn both oil and gas as fuel, while a conventional generator diesel engine can burn oil only.
The propulsion system is composed of several sets of generator diesel engines and variable speed propulsion motors. Electric power is generated by generator diesel engines supplied with gas or oil. Propulsion motor is driven by the electric power, and the power is transmitted to the propulsive shafting.
The system has following properties
Higher thermal efficiency than conventional steam turbine plants is achieved.
Low CO2 emission due to high thermal efficiency brings low environmental effect.
Since gas pressure is about 5bar at engine inlet, handling of fuel gas is relatively easy.
Since the system has several sets of engines and propulsion motors, navigation can be continued in case one of the engines or propulsion motors is in failure.
Contact