Wet Biomass Fermentation System
Mixed biomass fermentation system in sewage treatment plant can be utilized as thermal energy in the facility, which reduces the consumption of fossil fuel and is very effective way of recycling. Preprocessing technology of sorting and crushing and mixed methane fermentation technology are vital in this system. As a leading company in this garbage field, we built mixed biomass fermentation plant which can process garbage, which is the first plant of this type in Japan in the sewage treatment plant at Suzu-city in Ishikawa-Prefecture. Higher biogas production performance is made possible by placing garbage and human waste together, which gas can be utilized for sludge drying and it leads to reduce the consumption of fossil fuel.
Kawasaki Plant Systems, Ltd. are putting a great deal of effort to realize the creation of recycling-oriented society through our technology development, which promotes recycling of reusable biomass energy, and by sales expanding of our products.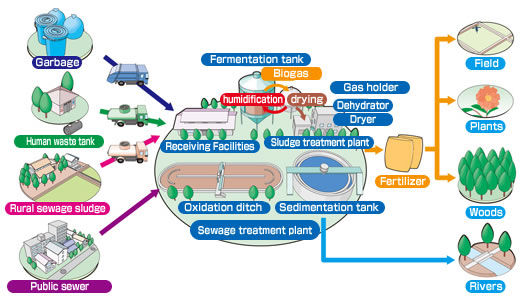 Contact