Energy Management System (EMS)
Reduces Running costs by optimizing the equipment configuration.
Energy Management System
In complex energy facilities, such as a plant composed of a power system and various types of equipment, including gas turbines, gas engines, and boilers, EMS optimizes the output distribution and operation pattern for each piece of energy equipment, enabling running costs to be minimized.
Features of Kawasaki's EMS
Reduces the running costs considering heat and power comprehensively.
Takes the operational range of each piece of equipment into consideration.
Example of a system configuration under EMS management
In general, the output sharing ratio is fixed for each piece of equipment regardless of changes in power and heat demands. The batch management using EMS enables appropriate energy distribution according to demands, which minimizes fuel costs and CO2 emissions.
Example of cost comparison before and after EMS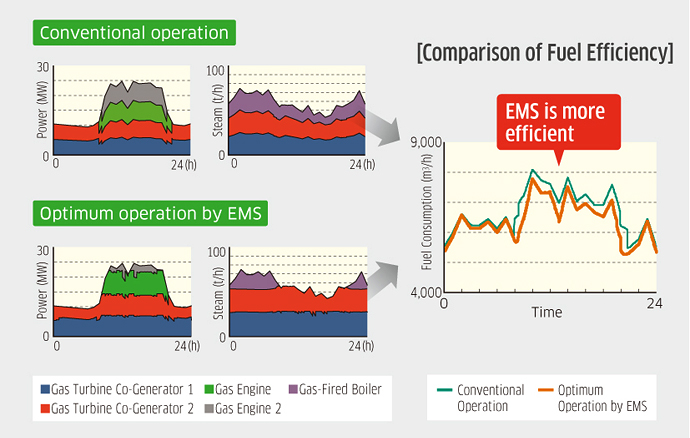 Optimizes the number of pieces of equipment to be operated as well as their operating times, thus reducing fuel costs.
Example of cost reduction by introducing EMS