Micro-grid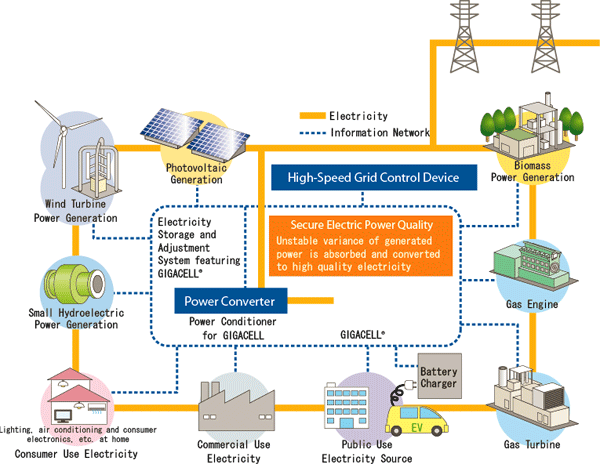 A network of multiple generating sources within a given area forms a micro-grid. The GIGACELL has the ability to quickly respond to the demand loads as well as fluctuations in generated power. It can ensure safe and dependable power for micro-grids isolated from the main power grid.
GIGACELL Delivery to Micro-grid System of Shimizu Co. Ltd., Technical Research Center
GIGACELL is used as part of a micro-grid storage device at the Technical Research Center of Shimizu Co. Ltd.
GIGACELL will discharge electricity according to fluctuating loads of the Technical Research Center, fixing the amount of electricity bought from the outside grid. The GIGACELL controls load fluctuations by rapidly charging and discharging (Max. rate 1 C, 100 kW).
| | |
| --- | --- |
| Location | Shimizu Co. Ltd., Technical Research Center |
| Application | Stabilization control to fix purchased power from outside grid |
| Components | 141 Ah x 1.2 V x 30 cells x 16 series-connected modules |
| Battery capacity | 81.2 kWh |
| Start of Operation | February 2011 |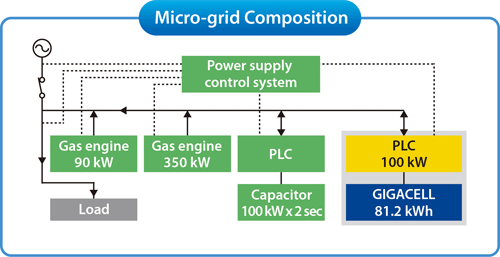 Benefits of GIGACELL

GIGACELL is a trademark of Kawasaki Heavy Industries, Ltd. in Japan and the U.S.A.
Frequently Asked Questions

Contact