Responding to the Needs of an Aging Society and a Shortage of Labor through Automation
We will address issues related to an aging society and labor shortage, particularly evident in developed countries, through the use of robot technologies.
---
2030 Target
Number of robots delivered: 100,000
Results for Fiscal Year Ended March 31, 2018
Number of robots delivered: 20,000
Vision for 2030
In developed countries where the aging of society is increasingly noticeable, making it easier for people to access high-quality medical care through the development of medical robots, and using robot technology to support prescription drug production, nursing and medical care and everyone in the field of healthcare who develops therapies and treatments that reduce the physical burden on patients. Developing and manufacturing robots that collaborate with humans in work operations and making them intelligent enough to create solutions to the labor shortages that are particularly evident in developed countries.
Activity snapshot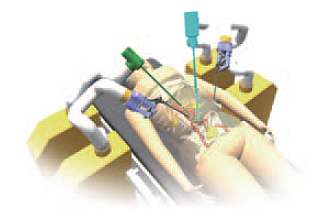 We positioned medical robots as a business that will support an aging society, established Medicaroid Corporation— a joint venture with Sysmex Corporation—and are now engaged in development of Robotically Assisted Surgical Device and applied robots using industrial robot technology with the goal of creating new businesses. We also seek to promote collaboration with humans in work operations, with an emphasis on duAro—our dual-armed SCARA robot—and cultivate demand for greater automation at manufacturing sites.
---
The Kawasaki Group will also contribute to fulfilling the SDGs shown to the left, utilizing the capabilities of our business segments.
---
Contact