Improving Social Infrastructure, Especially in Emerging Countries
We will help reduce environmental risk and lay a foundation for better social infrastructures, especially in emerging countries, by providing industrial-use gas turbines, waste incinerators, hydraulic machinery and systems, and other products.
---

Energy System & Plant Engineering Company
Initiatives to Create Social Value
The Energy System & Plant Engineering Company has designated as its vision for 2030 being a distinctive equipment, system, and plant manufacturer that uses technologies and boasts quality underpinned by sophisticated product development expertise, manufacturing technology, and engineering know-how to globally provide products and services that help realize CO2-free energy and reduce environmental burden while earning high customer satisfaction, mainly in the areas of energy and the environment.
To achieve this vision, we aim to advance both economic growth and environmental protection by providing energy-saving, highly resource-efficient equipment, such as gas turbines that realize the world's highest level of efficiency and environmental performance, gas engines that realize the world's highest level of performance, and other power generation facilities. Specifically, we are working to combine core products and incorporate in-house know-how, reinforce our ability to handle overseas projects, and create new solutions while concentrating management resources on the hydrogen business and advancing the development of products that contribute to decarbonization. We will contribute to infrastructure improvement by providing such products as tunnel boring machines and cryogenic storage facilities while also contributing to environmental protection in urban areas through deliveries of energy-saving waste incinerators, water treatment facilities, desulfurization/denitrification devices, and other systems.
2030 Target/KPI
Expand share of distributed power generation market with the industry's most efficient, environmentally friendly devices

Constantly provide highly efficient, energy-saving, clean energy power generation facilities and devices, infrastructure-related facilities, and environment-related facilities
Goals for fiscal 2021
Expand supply of Kawasaki's power plants, which boast world-class generating efficiency and power-saving performance, in Southeast Asia, where electricity demand is growing rapidly, to meet needs for economic development and greater environmental friendliness in emerging countries

Develop products with greater environmental burden alleviating effects and respond to environmental regulations

Advance development of hydrogen gas turbines that contribute to CO2 emissions reduction
Fiscal 2019 Results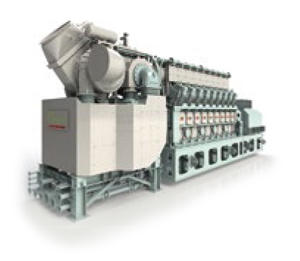 Deliveries of power generation facilities to overseas customers: 14 units

Deliveries of gas-to-gasoline (GTG) plants: 1 unit
---
Precision Machinery Business Division
Initiatives to Create Social Value
The Precision Machinery Business Division has designated the following as its vision for 2030.
Make Kawasaki hydraulic machinery and systems the global standard by expanding sales to customers around the world and achieve stable production and supply
Support the development of next-generation of human- and environment-friendly construction machinery through Kawasaki products to contribute to the improvement of infrastructure, mainly in emerging countries
Promote the development and sale of energy-saving products, hydrogen-oriented products and renewable energy-oriented products to contribute to the reduction of environmental burden
Combine new technologies, such as ICT, IoT, and AI, with Kawasaki's robot technology and hydraulic control technology to create new value
To achieve this vision, we are working to establish systems for stable production and supply and advancing R&D into hydraulics systems aimed at creating ICT-linked, automated, and unmanned next-generation construction machinery for customers while advancing product development and sales in the pursuit of full-scale entry into agricultural machinery and industrial vehicle sectors. In addition, we are now mass-producing a high-pressure hydrogen regulator and advancing development toward secondary mass-production. Sales of Eco-Servo, an energy-saving, low-noise hydraulic hybrid system, have been strong, and we advancing the development of a compact electro-hydraulic actuator for humanoid robots, as well.
2030 Target/KPI
Hydraulic machinery production and delivery volume: 1.4 million units
Goals for fiscal 2021
Establish production sites and stable supply systems that are globally optimized in terms of cost, quality, and delivery time; advance development of technologies that will set our products apart in the future; and further expand sales in the hydraulic excavator, agricultural, industrial, and marine machinery fields in order to make Kawasaki products the global standard by supplying our hydraulic machinery and systems to customers around the world.

Establish firm foundations in new businesses, such as high-pressure hydrogen regulators for automobiles and fields based on synergies with the robot business

Hydraulic machinery production and delivery volume: 750,000 units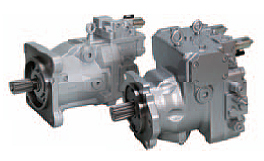 Fiscal 2019 Results
Hydraulic machinery production and delivery volume: 700,000 units
---
Contact