Information Disclosure in Line with the TCFD Recommendations (Scenario Analysis)
---
Disclosure in Line with the Recommendations of the Task Force on Climate-related Financial Disclosures
Under its Group Vision 2030, the Kawasaki Group will actively contribute to the realization of a society in which the average global temperature rise is held to 1.5℃ above pre-industrial levels—the goal of the Paris Agreement—through its business, by advancing its hydrogen business, CCUS*1 and other efforts. At the same time, the Group is moving forward with measures, based on risk analysis, to address increasingly severe natural disasters, including business continuity planning (BCP), supply chain resilience and others. Here we report on climate change-related information based on TCFD recommendations.
*1 Carbon dioxide Capture, Utilization and Storage
---
Governance (Organizational governance of climate-related risks and rewards)
Kawasaki has established a Sustainability Committee, chaired by the President, to provide a system for discussion and reporting regarding its environmental management strategy, including climate change risks and opportunities; committee meetings are held at least twice a year. The Sustainability Committee regularly reports on its activities to the Board of Directors, which makes policy decisions regarding climate change-related initiatives and discusses other important matters.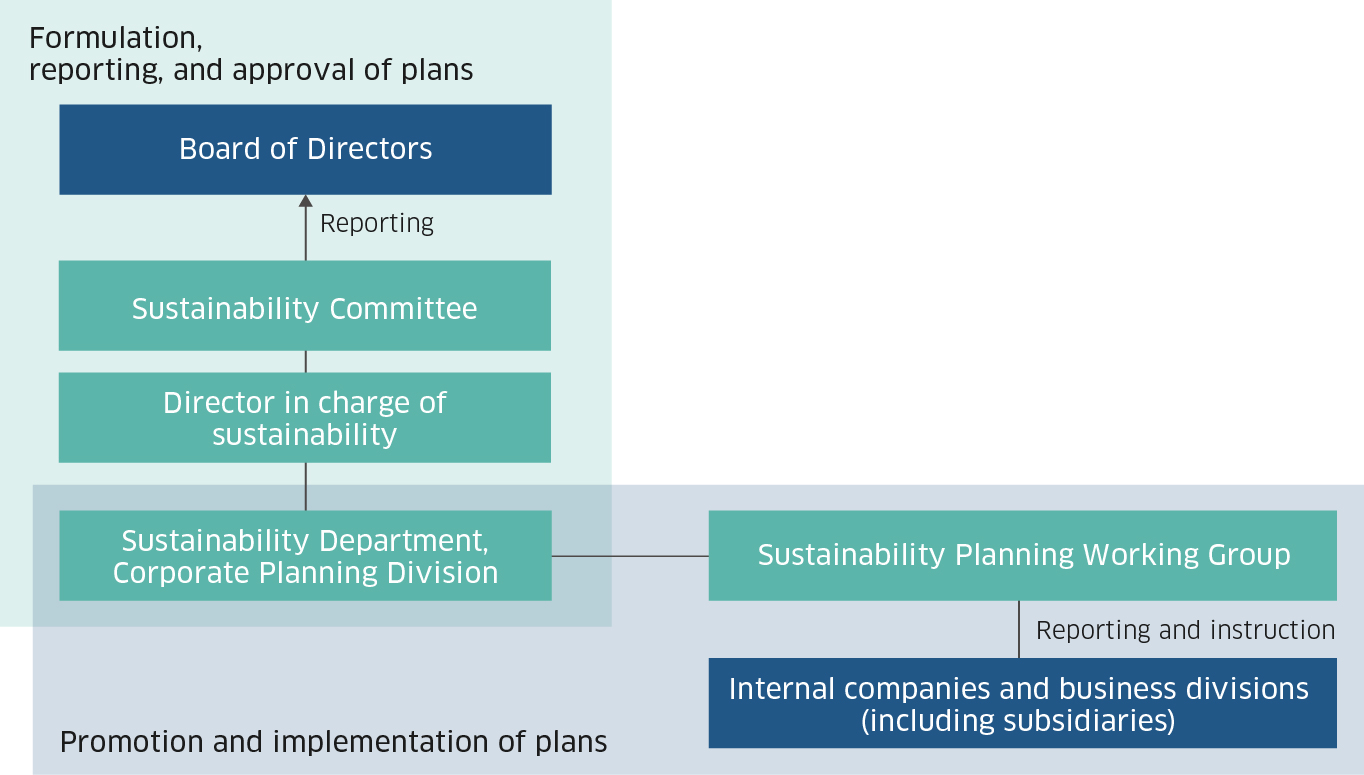 ---
Strategy (Actual and potential impact of climate-related risks and opportunities on business, strategy and financial planning)
In energy and environmental solutions, one of three focal fields defined in the Group Vision 2030, the Group is actively advancing business aimed at realizing a decarbonized society through the hydrogen business, CCUS and other efforts.
In the current scenario analysis, we looked at the Group in its entirety to perform a comprehensive assessment in terms of (i) an assessment by industry; (ii) CO2 emissions; (iii) business size and future growth potential; and (iv) climate change-related opportunities and risks. We then identified those businesses that will be significantly impacted by climate change. We conducted a quantitative assessment (financial impact assessment) of the Energy Solution and Marine Engineering segment, which faces the greatest impact, as well as a qualitative assessment of the Aerospace Systems and Motorcycle & Engine segments, which will see the next-largest impact. Considering consistency with the Group Vision 2030, the year 2030 was set as the target year, with the analysis based on a scenario of 1.5℃ and 4℃.
---
Risk Management (Methods for identifying, assessing and managing climate-related risks)
The identification and assessment of risks related to climate change are conducted by the Sustainability Committee. Risks are identified in accordance with TCFD categories, including transition risks, physical risks and others, and are assessed based on the size of their impact. The most significant risks among these are reported to the Board of Directors, which then holds discussions regarding countermeasures.
---
Indicators and Targets (Indicators and targets employed when assessing and managing climate-related risks and opportunities)
The Group has established CO2 emissions reduction targets, as shown in the chart below.
For domestic Scope 1 and 2, including Group companies, our goal is to achieve self-sustaining carbon neutrality by 2030 through initiatives centered primarily around hydrogen power generation. For Scope 3, targets have been established for main categories (i) and (xi).
Our goal is for zero CO2 emissions across the Group as a whole by 2050, in line with the CO2-free target set out in the Kawasaki Global Environmental Vision 2050.
Kawasaki Group CO2 Emissions Reduction Targets
Scope 1, 2
Scope 3
2030
Net Zero
Scope: Domestic Group companies
2040
Zero-Carbon Ready

* Substantially reduce CO2 emissions by greater than 100% through promotion of the CCUS business (Category (i): 80% reduction (versus fiscal 2021)
Category (xi): Promote CO2 reductions in the world)

Scope: Kawasaki Heavy Industries, Kawasaki Motors, Kawasaki Railcar
2050
Net Zero
Scope: Entire Group (consolidated)
---
Climate Change Scenario Analysis
1.5℃ Scenario (As of 2030) If Group Vision 2030 Is Achieved
Business Segment
Energy Solution & Marine Engineering Segment
Aerospace Systems Segment
Motorcycle & Engine Segment
Assumptions

Decarbonization of energy will progress rapidly worldwide, and energy conservation, energy conversion and the shift toward non-fossil fuels will advance in Japan as well.
An international supply chain will be built for hydrogen and ammonia, and power generation begins. Strategic placement of hydrogen stations advances.

With safety and a stable supply as first priorities, supply of low-carbon or decarbonized energy at reasonable prices will progress. Electricity demand will increase globally, but decline slightly in Japan. Energy security will become increasingly important.

Global air passenger traffic will increase as the middle class grows in emerging economies. The use of sustainable aviation fuel (SAF), such as biofuels, and hydrogen will be encouraged.

Rapid progress in electrification. The use of hydrogen and synthetic fuels will also advance.

Opportunities
Hydrogen-related

Demand will increase for liquefaction plants, liquefied hydrogen storage tanks, liquefied hydrogen carriers, hydrogen gas turbines, hydrogen gas engines and marine hydrogen engines.

Efforts to develop hydrogen-powered aircraft will progress toward 2040.

Demand will increase for hydrogen engine motorcycles and four-wheelers.

CCUS

Demand will increase for CO2 recovery plants/equipment and use of CO2.

—
—
Electrification

Demand will increase for marine electric propulsion systems and marine fuel cell and storage batteries.

Development of electric aircraft will advance.

New electric motorcycles (EV/HEV, etc.) will come to market and sales will increase.

Alternative Fuels

The use of biomass will increase.

Demand for sustainable aircraft fuel (SAF) will increase.

Demand for e-fuel (carbon-neutral alternative fuels) compatible mobility will increase.

Other

Demand will increase for reduced GHG vessels, marine LPG/LNG engines and ammonia transport.

Demand will increase for fuel efficient engines.

—
Risks

Due to delays in infrastructure development, etc. widespread adoption of hydrogen may fall behind our assumptions.
Demand for LNG power generation facilities will gradually decline.

R&D and capital investments in new types of aircraft and engines using next-generation technology will increase.

EV/HEV development costs will increase. Capital investments in solving battery issues (durability, output), e-fuel and use of hydrogen technology will increase.

Financial Impact
(2030 net sales)

Hydrogen-related Products ¥400 billion

(Scheduled for future implementation)

(Scheduled for future implementation)

Kawasaki's measures to address opportunities and risks
Hydrogen-related

We have promoted the Green Innovation Fund's commercialization demonstration projects to achieve greater scale at lower cost. We have actively promoted alliances with relevant companies to realize an international supply chain.

Kawasaki is also promoting R&D in hydrogen aircraft core technology. We are advancing studies of airport infrastructure, etc. utilizing the hydrogen supply chain.

Stimulate demand by encouraging the development of mobility and general-purpose engines utilizing hydrogen engines.

CCUS

Kawasaki has completed a demonstration of a CO2 recovery plant under NEDO* and Ministry of the environment projects based on the strength of our submarine technology, and are advancing efforts to scale up and strengthen cost competitiveness of the plant toward commercialization. We are investigating a wide range of possibilities for utilization of CO2, including synthetic fuels.

* New Energy and Industrial Technology Development Organization

—
—
Electrification

Expand sales of hybrid/electric propulsion systems.

Advance development of elemental technologies related to electrification.

Deploy EV/HEV in at least 10 models by 2025, and replace major models with EV/HEV by 2035.

Alternative Fuels

Expand sales of boilers compatible with a wide variety of biomass fuels.

Advance preparations for development of SAF-compatible engines.

Promote development of e-fuel compatible mobility.

Other

In addition to meeting immediate transport demand with ammonia carriers, provide hydrogen engines and hydrogen supply systems for coastal vessels, which are the primary target ship types for our marine LNG gas engines.
Meet demand for LNG power generation from an energy security perspective, while also promoting a conversion to hydrogen gas turbines and hydrogen gas engines.

Promote R&D in composite materials and high-efficiency systems.
To cope with rising research and equipment costs, promote R&D in low-cost production technology using robot technology and IOT. Also increase development efficiency through alliances with other companies.

With regards to development costs and capital investments, we will control costs by standardizing components and outsourcing, including through collaboration with other companies.
4℃ Scenario (as of 2030) in the Absence of Progress with Group Vision 2030
Business Segment
Energy Solution & Marine Engineering Segment
Aerospace Systems Segment
Motorcycle & Engine Segment
Assumptions

Many countries withdraw from the Paris Agreement, leaving nature to take its course. Japan also fails to implement policies to reduce greenhouse gas emissions.
Typhoons, floods and other natural disasters chronically occur and intensify.
Gradual progress in deployment of renewable energy. Reliance on coal and oil continues. Hydrogen and ammonia technology fails to progress and introduction does not move forward.

Opportunities

Demand for distributed power and emergency power generation facilities will increase as a means of reducing disaster damage.

Demand for disaster response helicopters and related systems will increase as a means of reducing disaster damage.

—
Risks

The frequent occurrence of natural disasters may increase damage to power generation and transmission equipment, and increase the occurrence of delays in parts procurement and delivery due to supply chain disruptions.

Lack of progress in adoption of hydrogen and CCUS may cause delays in return on investments and require reevaluation of business plans.

—

Temperature changes may reduce lawn growth and shrink the general-purpose engine market.

Financial Impact

Loss of sales opportunities in hydrogen-related businesses. Delays in recovering investment.
Maintenance and growth of business scale expected through continuation of and improvements to existing products.

(Scheduled for future implementation)
(Scheduled for future implementation)
Kawasaki's measures to address opportunities and risks

Promote deployment of distributed power sources, emergency power generation.

Accelerate deployment of disaster response helicopters and related systems.

Consider repurposing technology acquired in lawn-related engines to enter markets outside of the lawn and garden segment.

Strengthen business continuity planning (BCP), mainly at coastal plants, as a countermeasure against natural disasters. Work toward a more resilient supply chain.
---
Contact