Carbon neutrality strategies
Kawasaki Group CO2 emissions and major countermeasures
Carbon neutrality targets
The Group aims to achieve carbon neutrality domestically by 2030 through the further advance of energy saving, the expanded use of renewable energies, and the expansion of waste-to-energy power generation, as well as independent initiatives focusing on hydrogen power generation.
In addition, we will extend our decarbonization solutions to society, business partners, and customers, thereby contributing to the early realization of carbon neutrality in the world.
---
Scope 1, 2

Toward the Realization of Independent Carbon Neutrality by 2030 through Initiatives Focusing On Hydrogen Power Generation
To reduce Scope 1 and 2 CO2 emissions, the Kawasaki Group will first create zero-emissions plants in Japan, which accounts for three-quarters of the Group's total annual emissions of 400,000 tons, by combining power generation from waste, renewable energy, and other sources with a focus on in-house hydrogen-fueled power generation facilities, as described below. We will then expand implementation to overseas subsidiaries and promote the introduction of hydrogen energy to existing power generation facilities previously delivered to customers and other facilities.
The natural gas-fired gas turbine facilities previously delivered by the company that are currently in operation have a total capacity of about 1,000 MW. If we make proposals for the introduction of hydrogen energy and are able to transition these facilities to mixed hydrogen or exclusive hydrogen firing, it will be possible to shift to hydrogen energy without making substantial changes to existing facilities.
Hydrogen power generation is currently advancing from the verification stage to the commercial application stage, and one urban area that can serve as a model, we have already achieved supply of heat and electric power generated exclusively from hydrogen using gas turbines manufactured by Kawasaki Heavy Industries.
Zero-Emission Plant
---
Scope 3
Leading Society by Advancing Toward Zero-Carbon Ready
Scope 3 Net Zero can only be achieved when all parties in the value chain including trading partners and clients become Zero-Carbon Ready. The Company will implement the maximum possible measures concerning Scope 3 to become Zero-Carbon Ready by 2040. Specifically, for category (i), we will slash CO2 emissions by suppliers of materials and parts by 80%, and for category (xi), we will develop a lineup of CO2-free standard solutions in all businesses. Moreover, we will reduce CO2 emissions by more than the Company's own Scope 3 emissions by working toward achieving a hydrogen-based society and engaging in the CCUS business, thereby contributing to the early achievement of carbon neutrality around the world.
Scope 3 Breakdown by Categories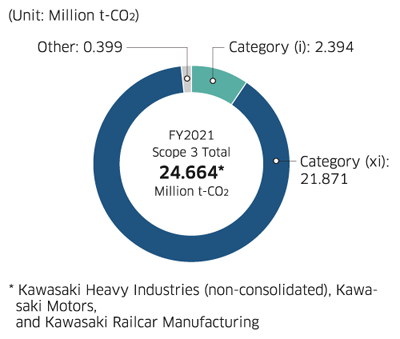 Support industrial initiatives with hydrogen and CCUS solutions to further accelerate reductions
It is anticipated that many industries and companies will tackle the reduction of CO2 emissions through various measures, including the utilization of renewables and efficient energy use.
The Company will deepen its partnerships, including sharing emissions data with business partners, offering support for CO2 reductions and striving for early achievement of zero emissions. This will be achieved by means not limited to in-company utilization by the Group of solutions such as hydrogen power, hydrogen fuel, and other alternative fuels, as well as CCUS, but also by providing these solutions to business partners that supply materials and parts.
Scope 3 Category (i) (CO2 reductions scenarios)

Provide CO2-free solutions to all customers
The Group will actively further three major initiatives. The first will be the provision of CO2-free fuels and electrical power to society, with a focus on its hydrogen business. The second will be to make a selection of choices for electrification and CO2-free fuels available to customers utilizing our various solutions including mobility and robots. The third will be to undertake initiatives to provide carbon capture, utilization, and storage (CCUS) solutions to capture CO2 emitted into the atmosphere, and subsequently store underground or use this CO2.
With these three pillars, the Group will make choices available to our customers of products and services (excluding defense and related; emergency products business) that contribute to the achievement of carbon neutrality by 2040, and promote global reductions in CO2.
Direction of Transitions by Business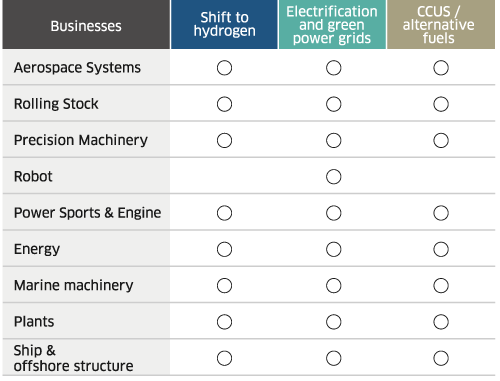 Envisioned Scale of Business by Future Solution
Decarbonization Solutions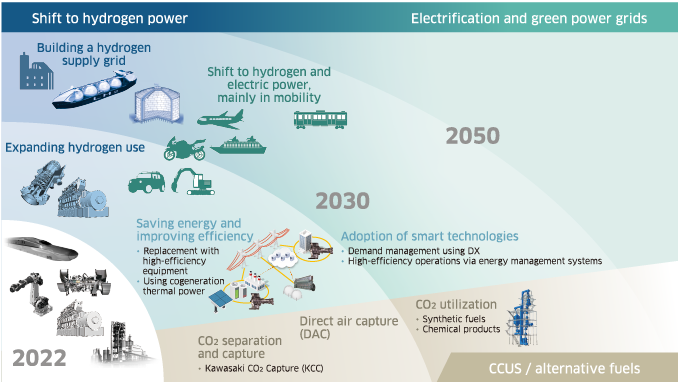 A CO2-recycling Society
---
Contact