"RIDEOLOGY THE APP MOTORCYCLE" Smartphone App for Motorcycles Updated- Bringing New Riding Experiences to Riders Around the World -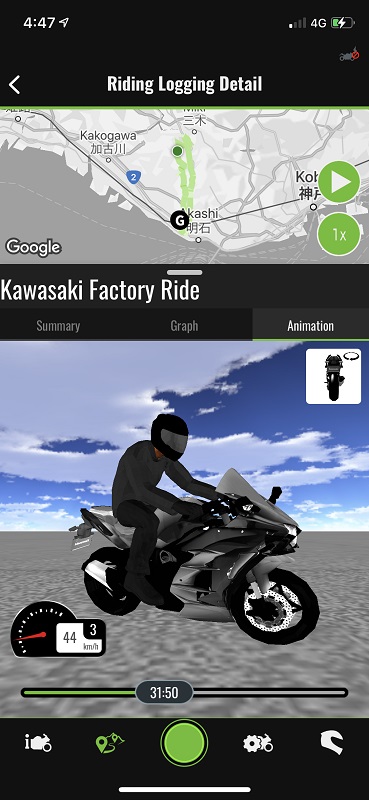 Kawasaki Motors, Ltd. have renewed their motorcycle-use smartphone application, RIDEOLOGY THE APP MOTORCYCLE*1. The app was first available on a number of 2019-year models.
The Kawasaki-original app, which links a motorcycle with the rider's smartphone via Bluetooth, enables various vehicle functions to be accessed, contributing to an enhanced motorcycle experience. The renewed app makes use of Cloud services, making various two-way communication possible. The key new functions and services of the new app are listed below*2.
1.Riding Shown Visually
Riding logs, which previously could be viewed as figures or in graph form, can now be shown as 3D animations, offering a more real visualization of the rider's riding. Another new function, RIDEOLOGY Score*3, overlays recorded values on the map route. Reviewing an actual riding log on a smartphone, riders can enjoy memories of their trip or touring by playing back their ride as a 3D animation displayed alongside their route*4.
2.Sharing Your Riding Experience
| | |
| --- | --- |
| ■ | In addition to reviewing riding logs on their smartphone, riders can share*5 these logs with their friends. Screenshots can also be shared on social media. |
| ■ | With a ranking function, riders can see how their weekly, monthly and yearly riding distances compare with other riders in the Kawasaki riding community. |
| ■ | With the sharing function riders can opt to share their nickname, rider and motorcycle profile and position information with other RIDEOLOGY THE APP MOTORCYCLE users. This support facilitates making new connections with other riders based on their motorcycle, location or posts.*5 |
3.My Vehicle Log
Riding logs and maintenance logs are both recorded, helping riders manage the history of their beloved vehicle.
RIDEOLOGY THE APP MOTORCYCLE can be used with Kawasaki motorcycles equipped with smartphone connectivity, both planned and models already available for sale. (As of October 2021, there are over 110,000 motorcycles with smartphone connectivity worldwide.)*6
Images of the app and a video explaining the functions of RIDEOLOGY THE APP MOTORCYCLE can be seen on the Kawasaki Connect website.

(URL: https://www.kawasaki-cp.khi.co.jp/kawasaki_connect/)
Kawasaki has been developing next-generation AI (Artificial Intelligence) and ICT (Information and Communication Technology) technologies that will enable an even greater connection between rider and motorcycle, contributing to a richer and more enjoyable motorcycle life. The rider-machine voice interaction system*7 announced in November 2020 will be expanding proof-of-concept tests from Japan to a global scale for final confirmation of its functionality and practicality. Please stay tuned for more developments.
*1
Please download and use the renewed app, RIDEOLOGY THE APP MOTORCYCLE, from the store. The app is compatible with Android 8.0 (or newer) and iOS 13 (or newer) systems.
*2
Existing functions like "Vehicle Information", "Vehicle Settings", and "Mail and Telephone Notices" are still available. (Available functions vary by model.)
*3
The RIDEOLOGY Score is an expression that Kawasaki Motors, Ltd. uses to quantify (based on an analysis of diverse riding data) the how enjoyable a ride was. On the map, four levels of color are used; the deeper the color, the more enjoyable that part of the ride was.
*4
Interaction with the app should only be done when the rider's vehicle is stopped and it is safe to do so.
*5
Riders can use this function with confidence knowing that their privacy is protected, and that they can select to share or not share their personal data. (The default setting is "private.")
*6
Data that can be displayed varies by model.
*7
"- RIDEOLOGY Meets AI - Proof-of-Concept Tests Commenced for Artificial Intelligence Rider Support System" press release (November 23, 2020)


(URL:https://global.kawasaki.com/en/corp/newsroom/news/detail/?f=20191105_5486)
Contact