- RIDEOLOGY Meets AI - Proof-of-Concept Tests Commenced for Artificial Intelligence Rider Support System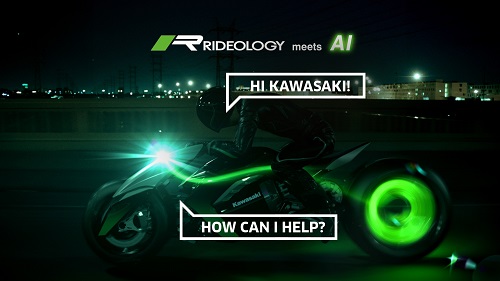 Tokyo, November 23, 2020 — Kawasaki Heavy Industries, Ltd. announced today that proof-of-concepts tests have commenced for a new Rider Support System. The research and development on ICT technology in conjunction with AI for application to motorcycles which Kawasaki has been conducting has led to the development of this new system which applies these technologies.
RIDEOLOGY expresses the kodawari, or great care, that Kawasaki takes in crafting the way our motorcycles feel to ride. The basis of this unique development philosophy is Kawasaki's belief that motorcycles should be more than simply a means of getting from A to B; rather we pursue all possibilities in order to create machines that are fun and rewarding for riders to control.
In coordination with a Cloud service, the new Rider Support System utilizes current advances in AI and uses a smartphone as an intermediary for various two-way communication between rider and motorcycle. The main functions and services included in the system are listed below.
1.

Visual Ride Playback


So far, rider-machine interaction has consisted of pressing buttons to scroll through and visually confirm a wide variety of information presented on an LCD screen, but now it is possible for the rider to ask for and receive information from the motorcycle simply by speaking. The motorcycle will search for information via the internet when the rider needs to know something, and then respond verbally. For example, useful riding information, like how much fuel range is left, or what the weather is like at the intended destination, can be easily obtained.

2.
Visual Ride Playback
Riding logs that have been expressed with numbers and graphs on smartphones, can now be shown visually with 3D models. Animations depicting speed and lean angle in combination with the route map allow the rider to relive their trip as they play back their ride*1.
Internal verification of the system has now advanced to the final stage, and we have been carrying out verification tests on public roads to check the system's practicality in Japan. These systems will be compatible with a number of Kawasaki motorcycles that are currently on sale*2.
Kawasaki's development of even greater AI-based applications is ongoing. For example, imagine a motorcycle that uses two-way communication to convey riding conditions to the rider, and that, in the process of adapting to rider cues, develops a unique response pattern. That is the future Kawasaki envisions as we work on realizing our next-generation motorcycles.
*1:
Rider interaction with the app should be limited to when the vehicle is not being operated and it is safe to do so.
*2:

Level of data displayed may differ depending on model.



Contact