Kawasaki Receives Order from Hanil Hyundai Cement in South Korea for Cement Plant WHRPG System –Contributing to Improve Energy Efficiency at Cement Plant–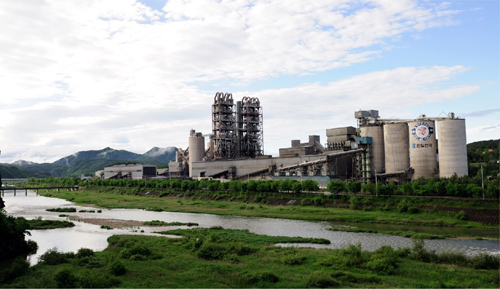 Photograph of Yeongwol Plant
Tokyo, July 20, 2021 – Kawasaki Heavy Industries, Ltd. announced today its receipt of an order to supply a waste heat recovery power generation (WHRPG) system to be constructed at Yeongwol Plant of Hanil Hyundai Cement Co., Ltd. (Yeongwol County, Gangwon Province, South Korea). The name of this project is "Eco Power Generation" and this WHRPG system will be installed in two lines of a cement manufacturing facility, each with a capacity of 5,800 t/d, with an output of approximately 22.6 MW and is scheduled for delivery in December 2022.
The WHRPG system consists of cement waste heat recovery boilers, steam turbine, generator, etc., and will recover waste heat during the calcining stage of the cement production process and use it for highly efficient power generation. Kawasaki will provide overall engineering, which includes the waste heat recovery boilers, Kawasaki-designed and -developed condensing type steam turbine, and control equipment, as well as basic engineering for equipment to be procured by the client and technical advisory services for construction and commissioning. Installation of this WHRPG system will enable the efficient utilization of waste heat, which previously was emitted into the environment, and will produce about 30% of the power needed by the plant. This will also reduce CO2 emissions by approximately 100,000 tons annually by reducing the use of electricity derived from fossil fuels.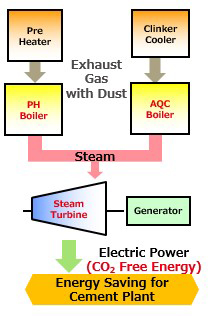 Concept of WHRPG
Kawasaki installed its first WHRPG system for a cement plant in 1980 in Japan. As a world leader, the Company has since supplied 13 plants in Japan, as well as plants in Germany*1, Korea, Turkey, China, Vietnam, India, Pakistan, and elsewhere.
In South Korea, Kawasaki has supplied a cement plant WHRPG system to Hanil Cement Co., Ltd., the parent company of Hanil Hyundai Cement, and four other plants. These contract awards are testimony to the proven track record and technical capability of the Kawasaki Group.
Together with its affiliates, the Kawasaki Group has supplied a total of 269 plants, generating a total of approximately 2,900 MW of electric power and reducing the carbon footprint by about 16 million tons annually.
In recent years, various countries have increasingly utilized waste derived fuels such as waste plastic at cement plants. The compatibility of Kawasaki cement waste heat boilers for cement plants using waste derived fuels has already been designed, developed and demonstrated. The Company also has technology for an internally circulating fluidized bed type waste plastic/biomass fired boiler (KCFBTM, Kawasaki Circulating Fluidized Bed Boiler), which effectively uses waste plastic, RPF*2 (including fluff), SRF*3, RDF*4, tire chips, and various types of biomass for highly efficient, clean power generation as well as heat supply. Kawasaki has supplied KCFB to waste power plants and paper mills in Japan and overseas*5.
Demand is expected to continue to grow for facilities that save energy and reduce environmental loads, including cement plant WHRPG systems and waste plastics/biomass fired boilers. Kawasaki will proactively continue to design, develop and deliver products that contribute toward energy saving and environmental protection.
Contact