Biomass Power System with Internally Circulating Fluidized-Bed Boiler Delivered
Apr. 05, 2006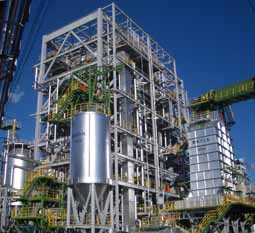 Tokyo, April 5, 2006 – Kawasaki Plant Systems, Ltd. (K Plant) today announced that it has delivered a biomass power generation system that features a proprietary, internally circulating fluidized-bed boiler to Tokai Pulp & Paper Co., Ltd.'s Shimada Mill.

The high-efficiency system comprises a boiler, a turbine generator, an exhaust gas treatment system and a silo for refuse paper and plastic fuel (RPF). The system generates steam by incinerating a mixture of eco-friendly biomass fuel (demolition and construction wood), RPF and waste plastics in the boiler. This steam, combined with steam from another boiler installed earlier at the plant, feeds the power-generating turbine and is used for drying paper and other papermaking processes at the mill. The introduction of an axial exhaust turbine contributed to lowering the height of the turbine building.

The all-important boiler has an internally circulating fluidized-bed divided into combustion and heat recovery cells by double-partition walls. This enables internal temperatures to be lower than other methods, thus preventing corrosion attacks from chlorine on the superheaters and generating tubes within the heat recovery cell, and allowing the boiler to generate high-pressure, high-temperature steam. Kawasaki's boiler also guarantees stable combustion even when fuels with different characteristics and calorific values are mixed. The operating load is easily adjustable between 60 and 100 percent. A combustion method that curbs the generation of environmentally harmful substances has been adopted, as well as bag filters, an activated carbon injector and flue gas desulphurization equipment for exhaust gas treatment. Noncombustibles in the fuels are also continuously removed from the bottom of the furnace.