Kawasaki Receives Order for SPICE, World's First AUV with Robot Arm for Subsea Pipeline Inspections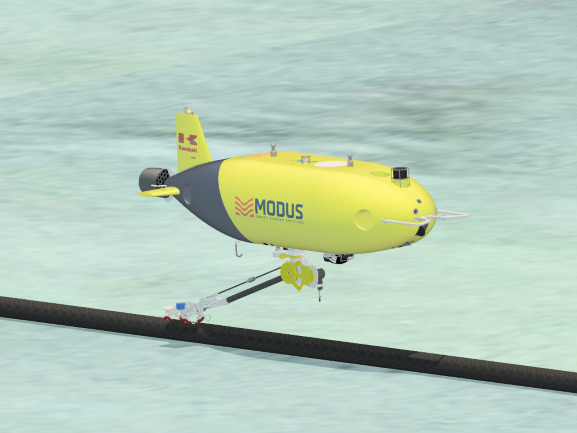 SPICE, World's First AUV with Robot Arm for Subsea Pipeline Inspections
Tokyo, May 18, 2021 — Kawasaki Heavy Industries, Ltd. announced today its receipt of an order by Modus Subsea Services Limited (MODUS) in UK for an AUV*1 called SPICE.*2
Kawasaki has undertaken research and development for AUVs in response to growing demand for pipeline maintenance in offshore oil and gas fields. SPICE is the world's first AUV equipped with a robot arm for performing subsea pipeline inspections, developed based on a fusion of submarine-related technologies and industrial robot technologies fostered at Kawasaki over many years. SPICE will be used for operations in the North Sea and other sea areas around the world after delivery to MODUS in 2021. MODUS has committed to acquire two units of SPICE from Kawasaki, of which first one was placed an order this time.
By Kawasaki's technological synergies, a robot arm fitted with an inspection tool unit at the end enables SPICE to perform close-range inspections of subsea pipelines not possible with traditional AUVs. In addition, it is operated using a docking station also developed by Kawasaki, which increases inspection operation efficiency and reduces cost requirements, while also benefiting crews working on a support vessel by reducing their burden and improving safety.
SPICE's basic specifications and features are as follows.
Specifications
Length overall
Approx. 5.6 m
Width
Approx. 1.4 m
Height
Approx. 1.1 m
Weight
Approx. 2,500 kg (in air)
Max. depth
3,000 m
Max. speed
4 knots
Propulsion equipment
Main propulsion propeller ×1, side thrusters ×2,
vertical thrusters ×2
Navigation equipment
Inertial navigation system, sonar
Safety equipment
Ballast release equipment, iridium beacon
Features
After being submerged into the sea along with the docking station, SPICE launches itself, searches for the pipeline to be inspected, performs inspections, and returns to the docking station once its mission completes. As this entire process is handled autonomously, SPICE does not require a dedicated ROV*3 operator or a highly sophisticated support vessel capable of dynamic positioning, unlike ROVs that used to be the standard pipeline inspection equipment.
SPICE comes equipped with an inspection tool unit fitted with close-range sensors at the end of the robot arm. When inspecting pipelines, SPICE controls robot arm autonomously to track the pipeline and performs efficient close-range inspection operations.
SPICE is capable of automated continuous detecting and tracking of subsea pipelines. It automatically avoids obstacles along the pipeline and continues inspections once the obstacle has been cleared. This enables uninterrupted continuous inspection operations.
After returning to the docking station under water, SPICE enables recharging the battery and sending collected data to the support vessel. SPICE can be launched and recovered under water for better operational efficiency than a conventional launch and recovery method.
Moving forward, Kawasaki will reflect user feedback and requests from MODUS in future development efforts and supply high-performance and high-quality products to meet the growing demand of AUV in the subsea inspection market. In this way and others, Kawasaki will play its part in creating a safe and secure remotely-connected society.
| | |
| --- | --- |
| *1 | Autonomous underwater vehicle. |
| *2 | Subsea Precise Inspector with Close Eyes. SPICE is a trademark of Kawasaki. |
| *3 | Remotely operated vehicle. While connected to the mother ship via a tether cable, the vehicle is operated by a dedicated operator. |
Related Links
■Corporate brand video: "Changing Forward" (SPICE ver.)
https://global.kawasaki.com/en/stories/articles/vol47/#spice
■STORIES : Kawasaki's AUV
https://global.kawasaki.com/en/stories/articles/vol99/
■Autonomous Underwater Vehicle "SPICE"
https://www.youtube.com/watch?v=rril44oN63s
■Kawasaki has successfully verified the Close-range Subsea Pipeline Inspection by Autonomous Underwater Vehicle (AUV) (*1)
https://global.kawasaki.com/en/corp/newsroom/news/detail/?f=20200715_8265
(*1) The verification test for SPICE was conducted with the support of the Joint Technological Development Support Program for Offshore Oil and Natural Gas Fields, which is supported by The Nippon Foundation and DeepStar, a marine technology development consortium comprising major oil companies and other organizations relating to offshore oil & gas industry.
Contact