Kawasaki has successfully verified the Close-range Subsea Pipeline Inspection by Autonomous Underwater Vehicle (AUV)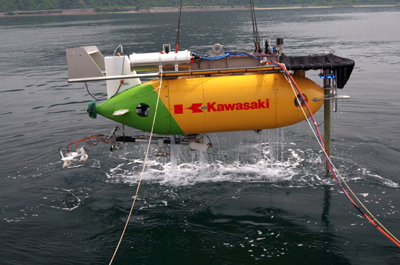 Tokyo, July 15, 2020 — Kawasaki Heavy Industries, Ltd. announced today the successful completion of verification tests for the close-range inspections of a subsea pipeline by an autonomous underwater vehicle (AUV) off the coast of Awaji Island, Hyogo Prefecture.
With a focus on the growing demand for pipeline maintenance in offshore oil and gas fields, Kawasaki has been developing an AUV called SPICE*1 (Subsea Precise Inspector with Close Eyes) equipped with a robot arm for performing subsea pipeline inspections—the world's first—based on a fusion of submarine technologies and industrial robot technologies fostered in-house over many years. During verification testing, SPICE executed a close-range inspection process which involved deployment at sea to locate and perform tracking operations on a subsea pipeline, after which it returned to its docking station*2for recovery. These tests were part of a series of tests required to verify autonomous operation capabilities, and were conducted from June 1st to 12th with the support of the Joint Technological Development Support Program for Offshore Oil and Natural Gas Fields,*3 which is supported by DeepStar*4and The Nippon Foundation. SPICE's verification tests entailed inspections of a mock pipeline used to simulate a real subsea pipeline, located off the shore of Awaji Island in Hyogo Prefecture.
The tests succeeded in verifying the performance of SPICE's autonomous robot arm control and sensor-equipped close-range inspection unit to track the pipeline while the AUV maintained stable travel, and represent a major step forward along the company's path to commercialization. Moreover, attendees at demonstrations carried out during the testing period expressed high praise and great expectations in response to the success of the tests.
Kawasaki will continue to carry out verification tests using equipment fitted with various inspection sensors in reflection of actual market needs, while simultaneously pursuing classification-society certification for its AUV. Furthermore, the company will keep on developing high-performance, high-quality products capable of uncrewed, automated operation for the AUV market, where demand is expected to grow for such underwater equipment, while proactively pursuing commercialization in FY 2021.
| | |
| --- | --- |
| *1 | "SPICE" is a trademark for AUV developed by Kawasaki Heavy Industries, Ltd. |
| *2 | A subsea docking station under development by Kawasaki. SPICE docks underwater with the station, which is attached via a cable to the mother ship (base ship for operations), enabling the AUV to charge and send collected inspection data to the mother ship. This arrangement enables SPICE to work for long periods undersea without frequent launch and recovery, thus reducing boat crew workload and improving safety. |
| *3 | A collaborative support program of The Nippon Foundation with the aim of participating in technological development in the ocean development field. Kawasaki was selected for participation in the program in FY 2019 in order to pursue applications for autonomous underwater robots in offshore oil fields, and the abovementioned verification tests were carried out as part of this program. |
| *4 | A marine technology development consortium comprising major oil companies, companies involved in ocean development, universities, research institutions and other such organizations with the aim of surveying, developing, and pursuing production in offshore oil and natural gas fields. |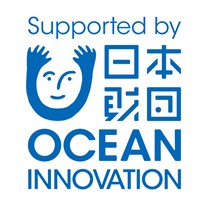 Contact