Ceremony of Viewing of First Train Set for Dhaka MRT Line-6
The ceremony of viewing of first train set for Dhaka MRT Line-6 was held at Uttara Depot in Dhaka, Bangladesh on 11 May 2021.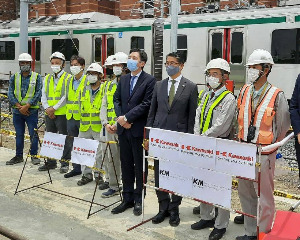 [Japanese guests and project members of consultant and Kawasaki]
In this ceremony, Mr. Obaidul Quader, Honorable Minister, Ministry of Road Transport and Bridges (remotely attended via internet), Mr. M. A. N. Siddique, Managing Director of Dhaka Mass Transit Company Limited (DMTCL), Mr. Ito Naoki, Ambassador of Japan to Bangladesh, Mr. Hayakawa Yuho, Chief Representative of Japan International Cooperation Agency (JICA) Bangladesh Office, and other high officials of the Ministry and DMTCL made addresses and cerebrated the arrival of first train set.
After the ceremony, they got onboard first train set, which was shipped to Bangladesh from Kobe Port on 4 March 2021 and arrived at Uttara Depot in Dhaka on 23 April 2021, and viewed the passenger saloon and cab.
The construction of Dhaka MRT Line-6 is progressing in full swing with Japan ODA Loan Agreement concerning infrastructure development signed between JICA and the government of Bangladesh.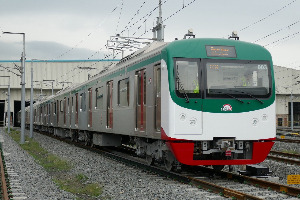 [First Train Set at Uttara Depot]
Kawasaki will proactively continue to develop its rolling stock business by effectively utilizing this opportunity and will also contribute to the development of economy and a safe and secure society through urban transport development in developing countries.
※This ceremony was held taking sufficient measures to prevent the spread of infection diseases.
(Related Link)
Press Release on 4 March 2021
Rolling Stock for Dhaka MRT Line-6 First Shipment
https://global.kawasaki.com/en/corp/newsroom/news/detail/?f=20210304_8861