Rolling Stock for Dhaka MRT Line-6 First Shipment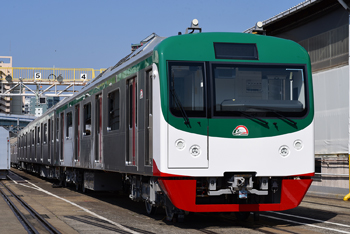 Rolling Stock for Dhaka MRT Line-6
Tokyo, March 4 - Kawasaki announced today that shipped out 6 cars of rolling stock for Dhaka MRT Line-6 from Kobe Port to Bangladesh. It is scheduled to arrive at the depot in Dhaka in April, 2021 and will be subsequently handed over to Dhaka Mass Transit Company Limited (DMTCL) after the completion of testing and commissioning.
The rolling stock delivered to Bangladesh this time is the first train set out of 24 train sets (144 cars) ordered by DMTCL to the consortium formed by Kawasaki and Mitsubishi Corporation in August, 2017. The carbody is made of stainless steel, which is light and durable material. In addition to indoor CCTV cameras, external CCTV cameras are installed to check the status of passengers and platforms during one-man operation. This camera is designed to ensure safety not only for passengers on trains but also for passengers getting on and off trains and platforms. In addition, two large-capacity air conditioning units are installed in each car, enabling a comfortable in-train environment in high temperature and humidity.
Dhaka MRT Line-6 will be the first MRT system in Bangladesh with 20km length fully elevated track comprising 16 stations. The construction of Dhaka MRT Line-6 is progressing in full swing with Japan ODA Loan Agreement concerning infrastructure development signed between Japan International Cooperation Agency (JICA) and the government of Bangladesh.
At present, apart from Dhaka MRT Line-6, construction of other MRT in Dhaka is also being planned. With the rapid economic growth and urbanization, demand for MRT rolling stock in Bangladesh is expected to continuously increase future as well.
Kawasaki will proactively continue to develop its rolling stock business in Bangladesh by effectively utilizing this opportunity and will also contribute to the development of economy and as well as a safe and secure society through urban transport development in developing countries.
Outline of Rolling Stock for Dhaka MRT Line-6
| | |
| --- | --- |
| Car Type | Commuter cars (24 six-car trainsets, total of 144 cars) |
| Dimensions | 19.8m (L) x 2.95m (W) x 4.1m (H) |
| Carbody Material | Stainless Steel |
Related Links:
For more information about Dhaka MRT Line-6, please visit
https://global.kawasaki.com/en/corp/newsroom/news/detail/?f=20170714_5864
Corporate brand video: "Changing Forward" (Rolling Stock ver.)
https://youtu.be/3JcmQb7zB1I
Contact