Kawasaki Receives First International Order for 30 MW Class L30A Made-in-Japan High-efficiency Gas Turbine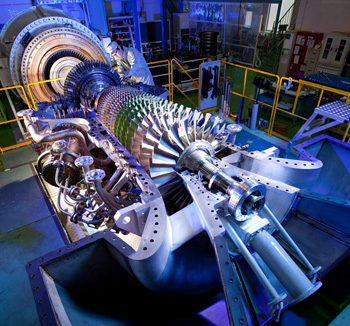 Tokyo, March 23, 2021 — Kawasaki Heavy Industries, Ltd. announced today its receipt of an order for one L30A gas turbine, a made-in-Japan, high-efficiency, 30 MW class model (Kawasaki's highest-output model). The order was placed by Weifang Bintou Distributed Energy Co., Ltd. of Shandong Province, China, and it is the first international order Kawasaki has received for the L30A.
Located in Weifang City, Shandong Province, Weifang Bintou Distributed Energy is a government-run energy provider operating under Weifang Bincheng Investment Development Co., Ltd., a company primarily engaged in infrastructure and urban development projects. Weifang Bintou Distributed Energy plans to build a new cogeneration plant in Weifang, Shandong that is approved as a pilot project for a new authorized distribution power grid by National Energy Administration, and that provides both steam and electricity to the region's factories and households. The L30A they ordered will serve as a central piece of equipment for this facility. They plan to start operation of the new cogeneration plant around the summer of 2022.
China is currently pursuing energy usage efficiency improvements, which include efforts to accelerate the introduction of renewable energy and distributed energy systems. To these ends, many organizations are expected to make the switch from traditional coal-fired power generation systems to more efficient gas-fired systems, which offer superior environmental performance and better response to load demand fluctuations.
Kawasaki offers a full lineup of gas turbines, gas engines, boilers and other products compatible with a distributed approach to energy supply, and one of the company's strengths is its ability to offer optimized, comprehensive combined-cycle power plant systems that effectively bring together these various products. Moving forward, Kawasaki will continue its active pursuit of product and technology improvements as well as strengthening plant engineering capabilities in order to further expand its energy-related business on a global scale. Furthermore, Kawasaki will continue to pursue reliable energy supplies and environmental load reductions while striving to precisely address a diverse array of market needs.
L30A Specifications
https://global.kawasaki.com/en/energy/equipment/gas_turbines/cogeneration.html
Development project for a gas turbine (the L30A) boasting the world's highest efficiency
https://www.youtube.com/watch?v=IvkeCelHvME&feature=youtu.be
Contact