Watercraft "JET SKI®"
Ultra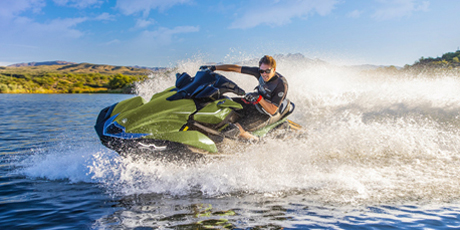 Kawasaki JET SKI personal watercraft have consistently led the PWC category from the front. The ULTRA 310 Series represents the pinnacle of the JET SKI lineup, with their supercharger-equipped liquid-cooled 4-stroke, 1,498 cm3 In-Line 4-cylinder engine boasting a maximum output of 228 kW (310 PS). Four variations cater to a variety of user needs and preferences: the standard ULTRA 310X; the ULTRA 310X Special Edition, which adds a sport seat and limited edition graphics; the ULTRA 310R with an adjustable post-style handlebar (max 18 positions) and sport seat; and finally the ULTRA 310LX, which features the Jetsound audio system and LXuryseat.
STX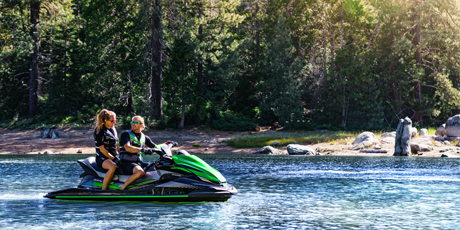 With a compact, lightweight hull designed based on Kawasaki's extensive racing experience, the STX-15F offers agile handling and stability. Adding all the equipment needed for fun marine excursions, plus excellent cost performance makes this well-rounded machine a showcase for the appeal of JET SKI personal watercraft. The easy-to-manage power of its 152 PS liquid-cooled 4-stroke, 1,498 cm3 In-Line 4-cylinder engine combined with its lightweight body make it an ideal choice either as an entry-level machine or as the base for a race machine. It comes fully equipped with convenient features like a reverse system that makes docking simple and an immobilizer to prevent theft.
SX-R
The SX-R is a stand-up model, the latest version in a line that traces back to Kawasaki's original JET SKI personal watercraft. It pairs the 152 PS liquid-cooled 4-stroke, 1,498 cm3 In-Line 4-cylinder engine from Kawasaki's highly successful runabout race platform, the STX-15F, with a newly designed hull that harnesses and then converts that power into forward motion. Innovative features include the first use of KSD (Kawasaki Splash Deflectors) on a stand-up model, a distinctive handle pole reinforced to cope with the greater power offered by the new 4-stroke engine and the increase in top speed that comes with it. This model is a great example of the kind of nimble handling and fun, exciting riding possible in a stand-up watercraft.