Watercraft "JET SKI®"
Ultra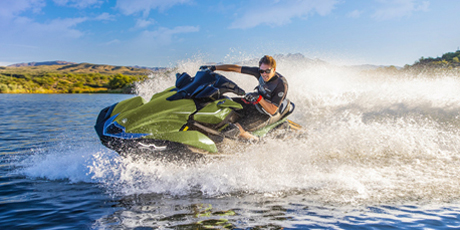 Kawasaki JET SKI personal watercraft have consistently led the PWC category from the front. The ULTRA 310 Series represents the pinnacle of the JET SKI lineup, with their supercharger-equipped liquid-cooled 4-stroke, 1,498 cm3 In-Line 4-cylinder engine boasting a maximum output of 228 kW (310 PS). Four variations cater to a variety of user needs and preferences: the standard ULTRA 310X; the ULTRA 310X Special Edition, which adds a sport seat and limited edition graphics; the ULTRA 310R with an adjustable post-style handlebar (max 18 positions) and sport seat; and finally the ULTRA 310LX, which features the Jetsound audio system and LXuryseat.
STX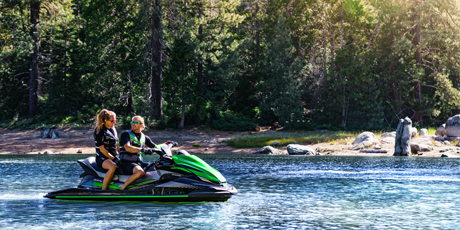 STX160 series is an entry powerful sports model, which inherits the well-known powerful engine and excellent straight-running handling of the STX hull, while at the same time adopting a new design that combines a comfortable riding position with ease of handling. With a sporty form of flowing lines and massiveness, it boasts a comfortable riding position. In addition, touring function has been improved by increased fuel capacity and larger storage. It also equips electronic cruise control, extended re-boarding footboard, comfortable handle grips, and cup holders. Designed to appeal to range of riders from beginners, family to advanced users, this watercraft will expand the dreams and enjoyment offered by marine leisure.
SX-R
The SX-R is a stand-up model, the latest version in a line that traces back to Kawasaki's original JET SKI personal watercraft. It pairs the 152 PS liquid-cooled 4-stroke, 1,498 cm3 In-Line 4-cylinder engine from Kawasaki's highly successful runabout race platform, the STX-15F, with a newly designed hull that harnesses and then converts that power into forward motion. Innovative features include the first use of KSD (Kawasaki Splash Deflectors) on a stand-up model, a distinctive handle pole reinforced to cope with the greater power offered by the new 4-stroke engine and the increase in top speed that comes with it. This model is a great example of the kind of nimble handling and fun, exciting riding possible in a stand-up watercraft.