Ash Melting Furnace (Plasma-type, Fuel-type)
This is the system to melt the bottom ash and fly ash at high temperature and creates slag for pollutant prevention and volume reduction in order to recycle as resource. The melted ash reduces the volume to approximately 1/2 by producing stable slag.Kawasaki also has the technology to improve the quality of slag for boosting its convenience.
Ash Melting Furnace (Plasma-type)
This system melts incineration ash and fly ash, by using weakly ionized (approximately 1%) high temperature plasma(between 20,000℃~30,000℃ at its center and 3,000℃ at its circumference),which is operated by air. This system uses the power generated in refuse incineration.
Fuel-type Surface Melting Furnace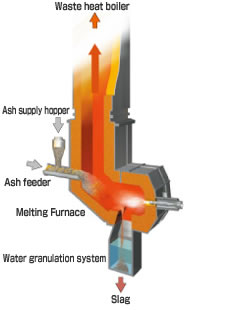 By firing a burner at the inclined surface of ash, this system melts ash, at temperature of approximately 1,350℃, using flame from the burner and radiation heat from the furnace walls. Kawasaki has the technology to reduce the consumption of fuel by casting in waste plastic with ash, in spite that kerosene, heavy oil and city gas is used as fuel.
Contact