Radioactive Waste Treatment and Disposal Facility
Kawasaki provides highly reliable radioactive waste treatment and disposal facilities by merging various technologies accumulated in manufacturing environmental and nuclear energy-related equipment. We can propose comprehensive volume reduction systems for radioactive waste to meet our customers' needs by utilizing our high-frequency induction melting, plasma melting, high-pressure compaction and water-jet cutting systems along with pretreatment systems indispensable for volume reduction. We also have full-scale high-frequency induction melting test equipment housable in a 200L drum for our customers to conduct fusing tests.
Features
Our radioactive waste treatment and disposal facilities are a product merging various volume reduction systems and plant designing, and remote control and automation technologies based on our experiences of constructing nuclear energy-related facilities and can realize high-reliability in handling hard-to-handle radioactive waste. The high-frequency induction melting system with active insulator (AI) can melt aluminum system waste in addition to iron system metals and inorganic substances (filters, insulating materials and glass) to turn into a stable and much less voluminous solid. We can also provide radioactive waste treatment and disposal technologies of our own including a water-jet cutting system with an abrasive, which can cut much thicker metals.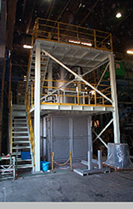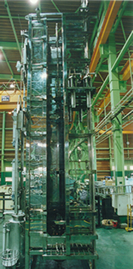 Contact