Promoting Environmental Management
Chief Environmental Officer's Message
—To Realize a Sustainable Society—
Spurred by the Paris Agreement reached at COP21,the transition to a carbon-free society is accelerating around the world. As this change progresses, to ensure that the Kawasaki Group's transport, energy, environment, and other industrial machinery-related businesses continue to grow going forward, we have designated the realization of a low-carbon society through business activities and product-based contributions as material issues in our CSR activities.

These material issues align with "Climate action,"one of the United Nations' 17 Sustainable Development Goals, and are highly compatible with the Kawasaki Group's energy and environmental businesses. In addition, because transitioning to a low-carbon society solely by improving fossil-fuel based energy-saving technologies is unlikely, expectations regarding the development of innovative, carbon-free technologies are growing, and we believe that Kawasaki's technologies have the potential to contribute immensely.

The Kawasaki Group's Environmental Charter lays out values and principles for environmental management activities to be shared across the Group along with action guidelines to steer each individual in their daily work. Based on the Environmental Charter, in order to solve a wide range of social issues, including transitioning to a carbon-free society, and to realize a sustainable world, the Kawasaki Group engages in environmental management, including efforts to prevent global warming, take action against climate change, reduce environmental impact, and conserve biodiversity.
The Kawasaki Group has also formulated a longterm environmental vision as a roadmap for drafting specific measures to address the immediate as well as the medium- and long-term issues it faces. To succeed the Environmental Vision 2020, established in 2010,we established the Kawasaki Global Environmental Vision 2050 in 2017, laying out more ambitious goals (i.e., a vision for the Group's future). To ensure our steady progress toward the realization of the longterm environmental vision, our three-year medium-term environmental management plans lay out specific issues to address.

Looking at the results of activities carried out under the Ninth Environmental Management Activities Plan (FY2016–FY2018), although certain challenges remain (such as eliminating the use of hexavalent chromium, which had to be postponed due to the lack of a suitable alternative), overall, activities progressed as planned. Initiatives aimed at achieving Environmental Vision 2020 have steadily achieved results.

Under the 10th Environmental Management Activities Plan (FY2019–FY2021), we continue to focus on climate change countermeasures, particularly the transition to carbon-free energy. As we work toward Kawasaki Global Environmental Vision 2050,we will continue to pursue ambitious targets in order to overcome the challenges of decarbonizing energy,maintaining and improving product quality while eliminating the use of harmful chemical substances,and conserving natural resources with a focus on biodiversity.

Through environmentally harmonious business activities and environmentally conscious Kawasakibrand products and services, the Kawasaki Group works with a wide range of stakeholders to conserve and improve the natural environment and to contribute to the creation of sustainable future. I hope that the information contained in this report will provide readers with a deeper understanding of the environment-oriented management practices of the Kawasaki Group.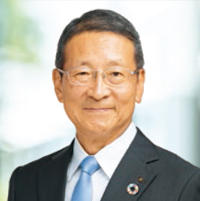 ---
Contact