Top Messege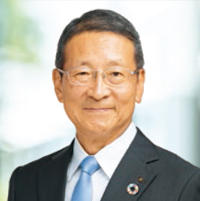 Increasingly Frequent Natural Disasters and the Growing Climate Crisis
Around the world, risks created by climate change (such as the occurrence of major typhoons and hurricanes, forest collapse or flooding) are growing. Japan's Annual Report on the Environment, the Sound Material-Cycle Society and Biodiversity 2020 (published by the Ministry of the Environment, June 2020) addressed increasingly frequent natural disasters, using the expression "climate crisis" for the first time. Going forward, needs related to realizing a sustainable society are only expected to grow. The Kawasaki Group has been engaged in transport, energy, environmental and other industrial machinery-related businesses for more than 120 years, and I believe that its accumulated technologies can contribute greatly to meeting these needs.
Facing the Climate Crisis
The Kawasaki Group is systematically implementing environmental management aimed at realizing a sustainable society.
Environmental Policy
The Kawasaki Group's Environmental Charter lays out environmental management values and principles to be shared across the Group along with action guidelines to steer each individual in their daily work. The Group implements environmental management, the combination of business management and environmental conservation, including efforts to prevent global warming, take action against climate change, reduce environmental impact, and conserve biodiversity.
Long-term Environmental Vision
In 2017, the Kawasaki Group drew up the Kawasaki Global Environmental Vision 2050, a long-term environmental vision formulated as a roadmap for drafting specific measures to address the immediate as well as the medium- and long-term issues the Group faces. This long-term vision designated the three goals of being "CO2 FREE," "Waste FREE," and "Harm FREE."
Three-year Environmental Management Plans
Working to achieve the long-term environmental vision, we formulate three-year medium-term environmental management plans to address concrete issues and implement initiatives accordingly. Under the 10th Environmental Management Activities Plan (fiscal 2019–2021), we are focusing on being "CO2 FREE." Purchased electricity accounts for a great deal of the energy used in the Group's business activities. As such, we are unlikely to achieve our vision merely by continuing the kinds of initiatives we have implemented in the past, which focus mainly on saving energy. We are therefore also working to transition to cleaner forms of energy, including renewable solar power and low-carbon energy from onsite LNG power generation facilities that can be fueled by hydrogen.

In addition to reducing CO2 emissions from business activities, we are working to shrink emissions from product use. In this report, we included new information on green value chains, showing the connections between energy resources, products, and environmental burden (including CO2 emissions) throughout the life cycles of our products. Emissions during use account for most of the CO2 released over the life cycles of our products. Addressing this issue, we use Kawasaki-brand Green Products, a system created in 2014, to evaluate and register products with particularly outstanding environmental performance, and work to provide lower-carbon, higher-efficiency products, including those that utilize hydrogen.

Regarding hydrogen utilization, in 2019 we held a launching ceremony for the world's first liquified hydrogen carrier ship, and in 2020 we began sales of hydrogen liquefaction systems, a first among Japanese manufacturers. Through these and other efforts, we continue to contribute to the spread of technologies for a hydrogen-powered society.
Disclosure in Line with the TCFD Recommendations
In addition to continuing to advance concrete initiatives, in September 2019 we officially endorsed the recommendations of the Task Force on Climate-related Financial Disclosures (TCFD). Going forward, we will further enhance disclosure to stakeholders, including disclosure of the risks and opportunities related to climate change in Kawasaki's businesses.
Initiatives in Fiscal 2019
The plan for fiscal 2019, the first year of the 10th Environmental Management Activities Plan (fiscal 2019–2021), was implemented smoothly. In fiscal 2020, we will continue to advance initiatives based on the ISO and other environmental management systems we have built at all our production sites.
Environmental Report 2020
Through environmentally harmonious business activities and environmentally conscious Kawasaki-brand products and services, the Kawasaki Group works with a wide range of stakeholders to conserve and improve the natural environment and to contribute to the realization of sustainable society. I hope that the information contained in this report will provide readers with a deeper understanding of the environment-oriented management practices of the Kawasaki Group.
---
Contact