Wind Tunnel for Japan Meteorological Agency Delivered to MLIT
Feb. 01, 2012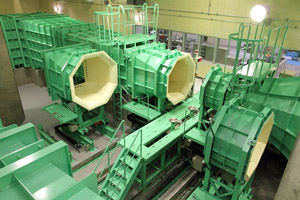 Tokyo, February 1, 2012—Kawasaki Heavy Industries, Ltd. announced today that it has delivered a wind tunnel built for the Japan Meteorological Agency to the Ministry of Land, Infrastructure, Transport and Tourism's Kanto Regional Development Bureau.
The Japan Meteorological Agency will use the new wind tunnel for testing the structural and material integrity and accuracy of anemometers used in meteorological observations. The wind tunnel consists of a mechanical axial fan, honeycombs, and a test section. The airflows produced by the fan are adjusted to specific speeds and directed at the anemometer in the test section to see how accurately the instrument indicates wind speeds.
The horizontal closed circuit wind tunnel (Gottingen type) features an open test section. The wind tunnel comes equipped with two octagonal nozzles, measuring 1,000 mm and 1,200 mm in diameter at the tunnel outlet. The new wind tunnel is capable of producing flow speeds of up to 108 m/s.
Since 1957, Kawasaki has been delivering wind tunnels for a wide spectrum of fields, including civil engineering, construction, environmental, automobile and aerospace.
As a leading wind tunnel manufacturer, Kawasaki is working on the frontiers of technology to develop state-of-the-art wind tunnels to meet an expanding range of needs.