Kawasaki Ships Gas Turbine-driven Natural Gas Compressor Train for Indian Offshore Natural Gas Compression Module
Jul. 28, 2010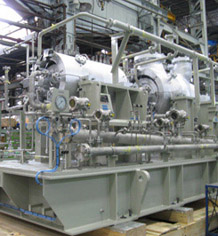 Tokyo, July 28 — Kawasaki Heavy Industries, Ltd. announced today that it has shipped gas turbine-driven natural gas compressor train from its Kobe Works for Oil and Natural Gas Corporation Limited's (ONGC) Mumbai High South Re-Development Phase-II Project off the shore of Mumbai, India.

The shipped compressor train is destined for the ICP-R offshore platform installed at ICP in Mumbai High.

The compressor train will be integrated into the gas compression module under assembly at PT Gunanusa Utama Fabricators' fabrication yard in West Java, Indonesia, before being installed at the offshore platform. The last delivery to ONGC and start of commercial operation of the offshore platform are scheduled for April, 2011.

The compression module is a compact unit comprised of a compressor, driver, gas cooler, scrubber, valves, controllers and other equipment that compresses natural gas at sea and transports it to land via underwater pipelines. Its modular design enables optimum installation in the limited space available on an offshore platform.

Kawasaki also received a related order from India's Afcons-Gunanusa Joint Venture (AGJV) to provide engineering services for the gas compression module currently under assembly and the recently shipped compressor train will be installed in the Kawasaki-engineered Compression module.

Kawasaki is one of the few compressor manufacturers that provide comprehensive modular solutions and it has a proven track record in India and Southeast Asia. The module currently destined for the ICP-R offshore platform marks the 51st order for a Kawasaki compression module and the 35th to India.

With environmental consciousness on the rise and the use of clean energy growing, Kawasaki's ongoing efforts to expand sales of its natural gas products will bring its energy and environmental business to new heights.