180,000 DWT Bulk Carrier
Cape Tsubaki

Delivered

Jun. 29, 2010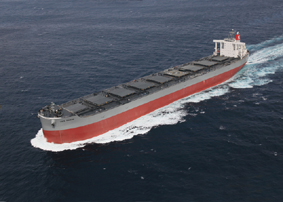 Tokyo, June 29, 2010 — Kawasaki Shipbuilding Corporation today delivered the Cape Tsubaki bulk carrier to Kawasaki Kisen Kaisha, Ltd. at its Sakaide Shipyard. The carrier, identified as Kawasaki hull No. 1635, is the 4th state-of-the-art bulk carrier with 180,000 DWT developed by Kawasaki Shipbuilding. The Cape Tsubaki is a 292-meter-long bulk carrier boasting one of the largest cargo capacities among vessels that can enter France's Port of Dunkirk.

Features of the Cape Tsubaki

1.
This newly designed cutting-edge vessel is Kawasaki's largest bulk carrier that can enter France's Port of Dunkirk.
2.
The vessel is fully compliant with the new bulk carrier hull strength rules (IACS Common Structural Rules) for enhanced safety.
3.
The vessel employs the latest in technology to achieve maximum fuel economy, including an energy-saving main diesel engine, highly efficient propellers, as well as the Kawasaki semi-duct system with contra fins (SDS-F) and rudder bulb with fins (RBS-F), which all contribute to the vessel's enhanced propulsion performance.
4.
The

Cape Tsubak

employs double-hull fuel oil tanks and electrical deck machinery to prevent marine pollution.
5.
The bulk carrier's anti-corrosion coatings, complying with the new performance standards for protective coatings (PSPC) for ballast tanks, ensure paint quality that is better than ever.