XC-2 Test Aircraft Delivered to Japanese Defense Ministry
Mar. 30, 2010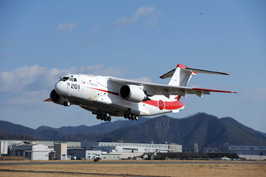 Tokyo, March 30, 2010 — Kawasaki Heavy Industries, Ltd. today delivered the #1 test XC-2 transport aircraft to the Ministry of Defense (MOD).

The Ministry of Defense began development of the XC-2 in 2001 as a replacement of the current C-1. It has been developed concurrently with the XP-1 fixed-wing maritime patrol aircraft. In November 2001, Kawasaki was nominated as a prime contractor for developing these airplanes with aircraft manufacturers and other participating companies.

The XC-2 employs a newly developed flight control system and an enhanced labor-saving loading/unloading system. Powered by GE engines, the XC-2 has a greater flight range capability and superior maximum cruise speed than its predecessor.

Manufactured and rolled out at Kawasaki's Gifu Works, the XC-2 test aircraft completed its first flight in January 2010 after a series of ground tests. This was followed by in-house flight and other scheduled testing before delivery to the MOD.

Production of the #2 test XC-2 transport aircraft, which is scheduled for delivery to the MOD by the end of March 2011, is currently underway as Kawasaki moves ahead toward full completion of the project.