XC-2 Test Aircraft for Japanese Defense Ministry Completes First Flight
Jan. 26, 2010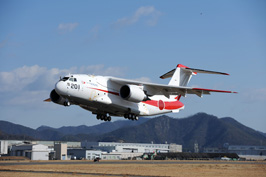 Tokyo, January 26, 2010 — Kawasaki Heavy Industries, Ltd. announced today that its #1 test XC-2 transport aircraft has completed a successful first flight at its Gifu Works.

The XC-2 test aircraft took off from the Japan Air Self-Defense Force's Gifu Airbase at around 10:21 a.m. today and landed safely after an approximately 71-minutes flight. On board the aircraft were captain Satoshi Hasebe and copilot Susumu Ishida, both from Kawasaki's Flight Test Section, as well as nine other crew members. The captain commented, "I'm glad that we successfully completed this much-anticipated first flight. I would like to thank everyone involved in this project for their hard work and cooperation. The plane's flight performance and operability was superb, and I can say without doubt that it's a great plane that will fully meet the requirements from the Ministry of Defense."

The Ministry of Defense began development of the XC-2 in 2001 as a replacement of the current C-1. It has been developed concurrently with the XP-1 fixed-wing maritime patrol aircraft. In November 2001, Kawasaki was nominated as a prime contractor for developing these airplanes with aircraft manufacturers and other participating companies.

Kawasaki will continue with in-house flight tests for the XC-2 at its Gifu Works. The aircraft is scheduled for delivery to the Ministry by the end of March 2010.

Kawasaki is moving steadily ahead toward the full completion of the project.