Large-Scale, High Capacity Nickel-Metal Hydride Battery, GIGACELL Awarded
Nov. 26, 2009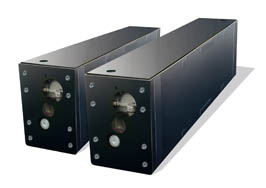 Tokyo, November 26, 2009 — Kawasaki Heavy Industries, Ltd. announced today that it has received the 2009 Minister of the Environment's Award for Outstanding Achievement in the Fight against Global Warming. The award for technological development and commercialization went to Kawasaki for the superior energy efficiency of its large-scale, fully sealed high capacity metal-hydride battery, the GIGACELL.

The Ministry of Environment established the annual awards back in 1998 as part of its initiative to mitigate global warming. The awards are given to individuals and groups in December, which has been officially designated as stop global warming month, to honor their outstanding achievements in saving the environment.

Nickel-metal hydride batteries, a safe and reliable power source, are used in hybrid vehicles. Kawasaki was able to overcome past obstacles to developing a large-scale, high capacity nickel-metal hydride batteries with a fully sealed structure that enables its GIGACELL to efficiently charge and discharge a large amount of electricity. Safe and easy to handle, the GIGACELL contains no toxic substances. It also features a weld-free structure that makes it easy to recycle and environmentally friendly. The GIGACELL® is an energy-saving, low-carbon solution that holds enormous potential for application in a wide range of areas.

When installed on a rail car, the GIGACELL stores regenerative power generated during breaking and then uses that energy to power the train's motors when accelerating for huge electricity savings. Kawasaki's proprietary next-generation light rail vehicle, SWIMOTM, has achieved a 30% to 50% reduction in energy consumption thanks to the GIGACELL. Kawasaki is looking into employing the GIGACELL on various types of large-scale transportation systems with an eye to saving energy and cutting carbon dioxide emissions.

The GIGACELL can also be used as a land battery power system for rail substations. Subway line verification testing has already proven that the GIGACELL can significantly reduce power consumption at substations as well as contracted power supply volume (by 20%). The outlook for the future is bright as Kawasaki harnesses the power of the GIGACELL to drive renewable energy forward with applications for power grid stabilization technologies (e.g. smart grid, microgrid, etc.) and more that will reduce our carbon footprint. Kawasaki is moving forward to develop and promote energy-saving products designed to save the earth's environment.

* "GIGACELL" and "SWIMO" are registered trademarks or trademarks of Kawasaki Heavy Industries, Ltd. in Japan, the U.S.A. and other countries.