6,000 kW Cogeneration System Ordered for Otsuka Pharmaceutical Plant in Kejayan, Indonesia
Oct. 05, 2009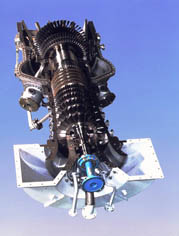 Tokyo, October 5, 2009 — Kawasaki Heavy Industries, Ltd. announced today that Kawasaki Gas Turbine Asia Sdn. Bhd. (KGA), Kawasaki's Kuala Lumpur-based gas turbine sales and service subsidiary for southern and southeastern Asia, has received an order for a 6,000 kW gas turbine cogeneration system. KGA worked jointly with PT Euroasiatic, an Indonesian engineering firm, Sojitz Corporation and its Indonesian subsidiary, PT Sojitz Indonesia to earn this order from PT Amerta Indah Otsuka, Otsuka Pharmaceutical Co., Ltd.'s Indonesian subsidiary. The cogeneration system will be installed in Amerta Indah Otsuka's new beverage production plant.

The cogeneration system consists of a natural gas-fueled gas turbine power generation system, which can also be powered by liquid fuel in an emergency, employing Kawasaki's proprietary M7A-02 gas turbine and a waste heat recovery boiler. The system not only generates power but also recovers exhaust from the gas turbine power generation system using a heat recovery boiler that then supplies steam to the plant, resulting in an overall efficiency rate of more than 80%. The system will supply power and steam to the plant's production facilities, contributing to lower energy costs and a stable power supply. Kawasaki will supply the gas turbine power generation system while PT Euroasiatic will be responsible for procurement of the boiler and auxiliary equipment as well as installation work. The cogeneration system is scheduled to be completed by the end of 2009.

Unstable electricity supplies in Indonesia have given rise to a growing number of gas-fueled in-house power plants, mainly in urban and industrial areas where natural gas pipelines are being installed. Demand for gas turbine cogeneration systems in Indonesia is expected to increase.

Kawasaki first delivered a 3,000 kW class cogeneration system to Indonesia in 1994. Since then it has delivered a total of 15 gas turbines to the Indonesian market. The M7A-02 gas turbine, the core component of the cogeneration system to be delivered to Amerta Indah Otsuka, is one of Kawasaki's best selling products. Between 2004 and 2008, Kawasaki received orders for ten M7A-02 gas turbines in the Indonesian market The Amerta Indah Otsuka order now brings that total up to eleven.

This latest order is a testament to the superior environmental performance and lifecycle cost of Kawasaki gas turbine cogeneration systems as well as Kawasaki's outstanding technological capabilities. Kawasaki has established a proven track record in the Indonesian market where its excellent customer support services have been given high marks.

Kawasaki will step up its efforts to expand the market for cogeneration systems in southern and southeastern Asia via KGA and leverage its global sales network encompassing Southeast Asia, North America, Europe, as well as the Middle and Far East to make further inroads into the global market.