Steam Turbine Generator Shipped to Indonesia
Sep. 24, 2009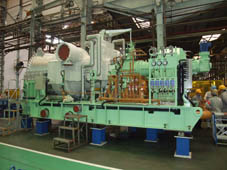 Tokyo, September 24, 2009 — Kawasaki Heavy Industries, Ltd. announced today that its Kobe Works has shipped a steam turbine generator to PT Dalle Energy Batam, a power supply company operating on Batam Island, Indonesia.

The order for the steam turbine generator came in May 2008 through Korea's Hyundai Engineering Co., Ltd., the general contractor for the power plant construction project. PT Dalle Energy Batam will use the steam turbine generator in this ongoing project for the implementation of a combined cycle power plant. To generate steam for power generation, the new facility will use waste heat from an existing gas turbine. The power plant is scheduled to go on line by the middle of 2010. The Kawasaki steam turbine generator has a power generation capacity of 22.9 MW and the generated power will be supplied throughout Batam Island.

Kawasaki has now supplied over 330 steam turbine units to the worldwide market for use in onshore power generation. This latest order to Indonesia marks the 36th for the Southeast Asian market.