Kawasaki M7A-03D Driven Power Generation System Shipped
Sep. 03, 2009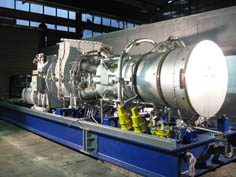 Tokyo, September 3, 2009 — Kawasaki Heavy Industries, Ltd. announced today that it has delivered a GPB80D gas turbine power generation system to E.ON Bayern Wärme. The system was fully assembled and shipped by Kawasaki Gas Turbine Europe GmbH, Kawasaki's Frankfurt-based gas turbine sales and service subsidiary for Europe. The GPB80D is powered by Kawasaki's proprietary 7,000 kW 7A-03D gas turbine.
The GPB80D gas turbine power generation system has been installed at Fripa Papierfabrik Albert Friedrich KG's Miltenberg Plant located 60 km southeast of Frankfurt, Germany. The system will be used by E.ON Bayern Wärme on a build-own-operate (BOO*) basis as a cogeneration system that will supply electricity and steam to the plant. The system will cut carbon dioxide emissions by 17,000 tons annually, making the plant's energy supply system environmentally friendly. The cogeneration system not only generates power but also recovers exhaust from the gas turbine power generation system using a heat recovery boiler that then supplies steam to the plant, resulting in an overall efficiency rate of more than 80%.

Development of the GPB80D gas turbine power generation system driven by Kawasaki's new M7A-03D gas turbine was based on the GPB60D and GPB70D gas turbines that have earned high marks from users. The GPB80D has outperformed the GPB70D with 10% more output and 2.9 more percentage points of thermal efficiency.

This latest order is a testament to the superior environmental performance and lifecycle cost of Kawasaki gas turbine power generation systems. Kawasaki's outstanding technological capability demonstrated by the high overall efficiency of the GPB80D and proven track record are gaining attention all over the globe.

*A financing arrangement whereby a private developer finances and builds a facility that it then owns and operates for a specified period.