Energy Confidence

LNG Carrier Delivered

May. 07, 2009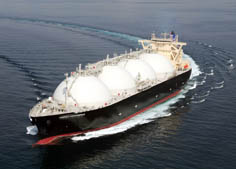 Tokyo, May 7, 2009 - Kawasaki Shipbuilding Corporation announced today that it delivered the LNG Carrier Energy Confidence to Tokyo LNG Tanker Co., Ltd. and Nippon Yusen Kabushiki Kaisha on May 1, 2009.

The vessel, identified as Kawasaki Hull No.1611, is the second in Kawasaki's new line of 153,000 m3 LNG Carriers. While the new vessel's capacity has been increased by about 8,000 m3 due to the installation of a 2-meter tall cylindrical extension at the mid-section of three of the four aft tanks, the size of the hull is the same as a 145,000 m3 LNG carrier, making it able to enter most major LNG terminals around the world.

The vessel features excellent thermal insulation performance owing to the Kawasaki Panel System which achieves a boil-off rate of 0.1 percent per day. The cargo tanks are protected against direct damage by double-hulls and double bottoms.

Other features of this 289.53m long ship include a computer-controlled navigation system in the wheelhouse to improve operability as well as a 360° view window that enables one-man navigation.

Monitoring and control of cargo-handling is operated from the cargo control room, which is positioned for the best view of cargo-handling operations. The cargo control room is equipped with an Integrated Automation System (IAS), which monitors and controls the cargo system and engine conditions. These superior operability features were adopted at the suggestion of ship operators from the development stage.