New 92ZV-2 Wheel Loader Released
Apr. 15, 2009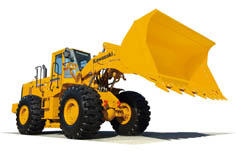 92ZV-2
Tokyo, April 15, 2009 – KCM Corporation, a wholly-owned subsidiary of Kawasaki Heavy Industries, announced today the global launch of its new 92ZV-2 wheel loader on May 1. The 92ZV-2 is a powerful, top-performing wheel loader model equipped with a heavy duty 4.6 m3 bucket. It's loaded with all the same great cutting-edge technologies that have earned high marks for previous Kawasaki wheel loader models.

The 92ZV-2 employs a 10.8-liter, 6 cylinder Cummins engine with a maximum output of 209 kW. This clean-running engine is certified as being fully compliant with the latest European and US emission standards. The 92ZV-2 is designed to deliver optimum fuel efficiency as along with lots of power and torque. It's loaded with outstanding features like the Efficient Loading System (ELS), which reduces fuel consumption while enhancing productivity, an idle management system for faster warm-ups and lower extended idle speeds, as well as a Fuel Efficient (FE) mode that allows the operator to select the most efficient power setting for the job. The new wheel loader is also equipped with an easy-access engine room featuring a large sliding door as well as a swing-out rear fan for easy cleaning. The Machine Operation Diagnostic Module (MODM) provides diagnostic information for more efficient maintenance and troubleshooting. These new state-of-the-art innovations on the 92ZV-2 all add up to maximum performance, reliability and economy.

The 92ZV-2 will be on display at Intermat 2009, an international exhibition of construction machinery and equipment held in France this past April.