Kawasaki Delivers BK117C-2 TV News Helicopter
Apr. 13, 2009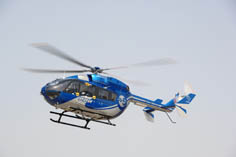 Tokyo, April 13, 2009 — Kawasaki Heavy Industries, Ltd. announced today that it has delivered its BK117C-2 helicopter to Eurocopter Japan Co., Ltd. Once Eurocopter outfits the helicopter with cameras and broadcasting equipment, it will be delivered to Fukuoka Broadcasting Corporation. This is the first C-2 model to be used by a television station.

The Kawasaki BK117 helicopter was developed jointly between Kawasaki and European helicopter manufacturer, Messerschmitt-Bolkow-Blohm (MBB), which is now Eurocopter Deutschland (ECD). The BK117 is a medium-sized twin-engine multi-purpose helicopter that's used in broadcasting, transporting cargo and passengers, fighting fires, as well as for police and emergency medical services. The helicopter boasts superior safety and operability, a compact body and large double doors in its rear for transporting long objects such as stretchers. Since its market debut in 1983, the BK117 has undergone continuous improvements, making it the best selling model in the world. More than 600 helicopters have been delivered worldwide thanks to Kawasaki's outstanding technological knowhow and proven track record.

Its ability to easily accommodate today's increasingly larger media equipment, cover wider flight areas and meet the growing need for enhanced environmental performance makes the C-2 the perfect choice for media organizations. The C-2 boasts the following major upgrades in addition to the great features of its predecessors.

1.Enhanced flight performance and transport capability with 30% more cabin room, a 7% increase in maximum gross weight and a 30% wider flying range over its predecessors.

2.A new main rotor blade design that significantly reduces noise and vibration.

3.A revamped cockpit for better visibility and an integrated flight instrument system with simpler flight displays to reduce the pilot's workload.

Kawasaki continues to leverage its superior technological capability and reliability on top of quick and reliable customer services to aggressively market its BK117C-2 helicopters.