First Gas Turbine Generator System for Offshore Platform Ordered
Mar. 26, 2009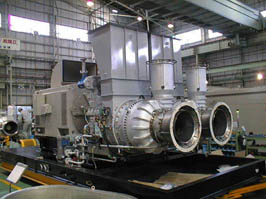 March 26, 2009 — Kawasaki Heavy Industries, Ltd. announced today that it has received an order for a gas turbine power generation system from Japex Offshore Ltd.* The system will be used on an offshore gas pressure booster platform to be built in the Iwafune-oki oil and gas field. This milestone order marks the first time that a Kawasaki gas turbine generator will meet the challenges presented by the severe environmental conditions of an offshore oil and gas exploration platform.

Production and development of crude oil and natural gas is already underway in the Iwafune-oki oil and gas field. Located about 30 km northeast of the coastal city of Niigata, the Iwafune-oki is Japan's only offshore oil and gas field.

The PUC30 gas turbine generator is a lightweight, compact power generation system equipped with two of Kawasaki's proprietary M1A-13 gas turbines. It is scheduled to be put into operation on the Japex gas booster platform in March 2011.

The M1A-13 gas turbine is one of Kawasaki's main products. Since its launch in 1989, Kawasaki has manufactured four hundred and twenty M1A-13 units. This latest order is testament to the proven track record and reliability of Kawasaki's gas turbine generators. Kawasaki is actively moving ahead to make further inroads into the oil and gas market with state-of-the-art gas turbines.

*Japex Offshore Ltd. is a subsidiary of Japan Petroleum Exploration Co., Ltd.