Tests Prove Kawasaki Green Gas Engine World's Top Performer
Jan. 29, 2009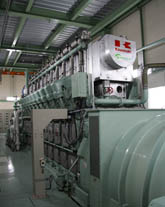 Tokyo, January 29, 2009 — Kawasaki Heavy Industries, Ltd. announced today that it has completed testing of its proprietary Green Gas Engine at a demonstration power plant currently operating at Joetsu Energy Service in Joetsu City, Niigata Prefecture. The Green Gas Engine power plant has operated for a cumulative total of 4,000 hours during the one-year testing program.

The Kawasaki Green Gas Engine operated magnificently throughout the onsite test runs, demonstrating superior electrical efficiency, environmental performance, as well as ease of maintenance and reliability – the key goals of the demonstration program.

The demonstration plant is operating with Kawasaki's largest Green Gas Engine model. Since the commencement of daily-start-and-stop (DSS) grid-connected operations at the end of December 2007, the engine has continuously maintained the world's highest electrical efficiency for grid-connected operations in spite of seasonal atmospheric fluctuations. The Kawasaki engine reduces fuel costs by more than 5% compared with conventional gas engines in the same class. Thanks to its low-NOx emissions, the Kawasaki Green Gas Engine eliminates the need for de-NOx equipment in most areas of Japan.

The Kawasaki Green Gas Engine is an innovative gas engine with a proven track record of cost efficiency and environmental performance. It boasts a global record-breaking electric efficiency of 48.5% and the world's lowest NOx emissions level with 160 ppm at 0% O2. The engine is available in four different combinations, including 12, 14, 16 or 18 cylinders, with outputs ranging from 5.0 to 7.8 MW, to meet a variety of needs.

The demonstration plant continues to operate as Joetsu Energy Service's commercial power plant while serving double duty as the Kawasaki Green Gas Engine demonstration plant.