Kawasaki Makes History with 100th M7 Gas Turbine
Jan. 26, 2009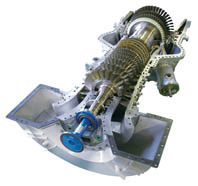 Tokyo, January 26, 2009 — Kawasaki Heavy Industries, Ltd. announced today the production of its 100th M7 series gas turbine unit, a 6 to 8 MW-class industrial gas turbine developed entirely in-house by Kawasaki. This milestone achievement in 6 to 8 MW-class gas turbine production is a Japanese industry first.

Kawasaki first began developing industrial gas turbines back in 1972. Ever since then it has been leveraging its proprietary technologies to successfully make gas turbines designed to meet a wide range of needs. Today Kawasaki makes gas turbines for standby generators, co-generation systems, and more.

Faced with the unprecedented challenge of producing a gas turbine that could achieve the required output of 6 MW needed to run a co-generation system, Kawasaki had to start design work on the M7 from scratch. Then in 1994, Kawasaki delivered the M7A-01, the first model in the M7 gas turbine series. The development work continued with an eye to enhanced efficiency and output, enabling Kawasaki to successfully produce and deliver the 7 MW-class, M7A-02, in 1999 followed by the 8 MW-class, M7A-03, in 2007. The wealth of technological expertise gained over the course of developing the M7 gas turbine series has been fully incorporated into the L20A, Kawasaki's top-of-the-line 20 MW gas turbine.

Kawasaki has been continually coming up with unique innovations to enhance the performance of its M7 gas turbines that are specifically tailored to meet the needs of the market. These innovations include the environmentally friendly low-NOx DLE (dry low emission) system and the flexible heat and power gas turbine (PLUS model) which can swiftly adjust to changes in thermal and electric load demand.

An increasing number of customers are discovering M7 gas turbines to be the solution to their energy efficiency and environmental performance problems. The M7 series has earned the confidence of customers everywhere with an expanded product line offering a wider range of outputs, increased efficiency that conserves energy and cuts CO2 emissions, as well as a number of enhanced features. All these advantages are backed up by a superior reliability that's driven by innovative thinking and excellent post-sale services and support. Today Kawasaki's 100 M7 gas turbines are hard at work in a wide range of areas, including the chemical, electronics, paper and pulp, as well as food processing industries.