Kawasaki Launches Ifrit Low NOx Once-Through Boilers
Mar. 18, 2008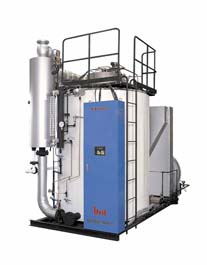 Tokyo, March 18, 2008 — Kawasaki Thermal Engineering Co., Ltd. announced today that it has released the new Ifrit line of large-size once-through boilers with the industry's lowest level of nitrogen oxide (NOx) emissions in March, 2008. The new Ifrit boilers boast NOx emissions lower than 40 ppm*1. That's lower than the level required by the Japanese emissions standard.

The large-size Ifrit once-through boilers feature:
(1) Superior control systems equivalent to large-size boilers generating high quality vapor;(2) Superior efficiency and a compact design.Since its launch in 2000, Ifrit boilers have been used for a wide range of purposes including industrial heating as well as backing up cogeneration systems because of their superior steam pressure stability, high efficiency and quick start-up capability.

Against a backdrop of growing environmental concern, Kawasaki has worked to boost both the environmental performance and energy efficiency of Ifrit boilers. The newly released low NOx line employs Kawasaki's proprietary technology for mixing fuel gas and air to reduce NOx emissions from the conventional level of 60 ppm to less than 40 ppm while maintaining optimal combustion at a low air ratio*2. The new line of Ifrit once-through boilers is designed to meet the needs of large-scale users who are subject to Japan's area-wide NOx emission control regulations as well as those operating in other areas with strict emission standards.

*1. NOx emission concentration at 0% O2.
*2. Air-ratio standard for boilers as stipulated by the Japanese energy conservation law.