First Forward Fuselage for New 777 Freighter Shipped
Jan. 22, 2008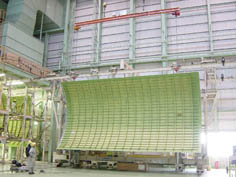 Tokyo, January 22, 2008 — Kawasaki Heavy Industries, Ltd. today announced that it has completed the development and production of the forward fuselage for Boeing's new commercial airplane, the 777 Freighter. The first forward fuselage panel was shipped from its Nagoya Works 1 on January 22.

The 777 Freighter is a new type of commercial airplane based upon the 777-200LR Model. It has the largest payload among twin-engine freighters and features better minimum operating cost performance than the other large freighters. The 777 freighter's cargo payload is about 104 metric tons, and it can fly 9,045 km with a full payload — the longest range of the twin-engine freighters.

Kawasaki is involved in the development and production of the forward and center fuselage panels, center wing substructures, pressure bulkhead and other parts. The demand for cargo traffic has expanded for several years, and is expected to continue expanding in the future. The 777 Freighter will meet this demand from airlines.

The Boeing 777, which went into service in 1995, has been adopted by airlines around the world. The economical 777 family covers short-haul to long-distance needs and is in service on both domestic and international flights. Kawasaki began participating in the Boeing 777 Program in 1991 and had manufactured over 700 shipsets by the end of 2007.

Kawasaki, as well as other Partners, developed the 777 Freighter during the production of existing 777 models. This first shipment of the 777 Freighter forward fuselage will contribute to the success of the whole program.