State-of-the-Art
Celestine River

Delivered

Dec. 14, 2007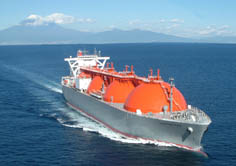 Tokyo, December 14, 2007 – Kawasaki Shipbuilding Corporation today delivered the Celestine River (hull No. 1587) to Chariot Finance Limited.

The 145,000 m3 LNG carrier will go to a group company of Cheniere Energy, Inc., a U.S.-based energy company, and be operated by "K" Line LNG Shipping (UK) Limited. The vessel has four Moss spherical tanks that hold a total of 145,394 m3 of LNG. It also features excellent thermal insulation performance with the Kawasaki Panel System, which achieves a boil-off rate of 0.15 percent per day. The cargo tanks are protected against direct damage by double-side shells and a double bottom.

Other features of the 289.7 m long ship include a computer-controlled navigation system integrated into the wheelhouse to improve operability, and a 360° view window that enables single-operator oceangoing navigation.

Monitoring and control of cargo-handling operations is performed from the cargo control room, which is positioned for the best view of the cargo areas. The control room is also equipped with an integrated automation system (IAS) jointly developed with Kawasaki Heavy Industries, which monitors and controls the cargo system and engine conditions. These superior operability features were adopted at the suggestion of ship operators from the development stage.