Power Plant with Green Gas Engine to Begin Operation
Dec. 03, 2007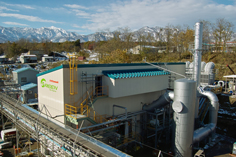 Tokyo, December 3, 2007 – Kawasaki Heavy Industries, Ltd. today announced the completion of a demonstration power plant driven by its proprietary Green Gas Engine. Kawasaki plans to verify the reliability of the engine through long-term operations at the plant. Its grid-connected operation will begin before the end of 2007.

The demonstration plant was built at Joetsu Energy Service (Joetsu City, Niigata Prefecture), an affiliate of Japan Energy Network. The plant will be operated with existing power plants of Joestu Energy Service.

The plant employs the largest of the Green Gas Engines, the KG-18, which is a gas-fueled, V-type, 18-cylinder engine with output of 7,800 kW.

The Green Gas Engine achieves the world's highest electric generation efficiency, at 48.5%, together with extremely low NOx emissions of 160 ppm at 0% O2, therefore demonstrating high cost performance and excellent environmental performance. It is applicable to a wide range of markets, with four models available: 12, 14, 16 or 18 cylinders, offering outputs from 5 to 7.8 MW.