First Delivery of Japan's Largest-Class LNG Tank Trailer
Nov. 26, 2007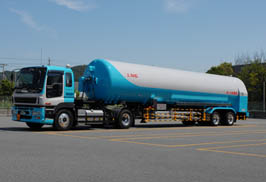 Tokyo, November 26, 2007 – Kawasaki Heavy Industries, Ltd. today announced that it has delivered its first LNG tank trailer, with a carrying capacity of 14 tons, to Niyac Corporation. The trailer will be used for the transporting of LNG by Osaka Gas Co., Ltd. and Liquid Gas Co., Ltd.

The tank trailer features proprietary vacuum multilayer insulation technology with layers of insulation in a vacuum around the tanks to prevent heat conduction. This reduces the trailer's weight, allowing it to carry approximately 14 tons of LNG and to have a pressurized vaporizer. Incorporating the vaporizer has improved the trailer's capabilities to send out LNG, enabling higher operational efficiency to be attained.

Demand for LNG, with its low CO2 emissions, is expected to grow and overland transport to satellite stations is expanding. Kawasaki's large tank trailer will contribute to a reduction in transport frequencies, which will significantly boost transportation efficiency and lower the environmental burden.

In April 2006, Kawasaki moved the production site of tank trailers and tank trucks from its Kakogawa Works to its Harima Works, where various tanks are produced using the production technology for large cryogenic tanks.