Low Floor, Battery-Powered Tram SWIMO Completed
Nov. 19, 2007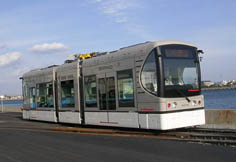 Tokyo, November 19, 2007 – Kawasaki Heavy Industries, Ltd. announced today that it has completed a next-generation, low floor light rail vehicle (LRV) powered by the GIGACELL*, its proprietary nickel metal-hydride battery.

Dubbed SWIMO (Smooth WIn MOver), the LRV's compact GIGACELL is installed under the seats to achieve a low floor that meets the barrier-free needs of passengers. Another feature is its eco-friendliness, as it stores power generated through a regenerating brake system, which leads to significant energy savings. Because it is battery-driven, the vehicle does not require unsightly overhead lines. This allows the easy opening of new lines and extensions – features that are beneficial to railway operators in planning versatile vehicle systems.

To test the SWIMO, Kawasaki laid a 2 km-long test track at its Harima Works and confirmed the fundamental features of the GIGACELL. Testing will continue to ensure that the battery can store 20% of the total power in five minutes of quick charging, operate for over 10 km without charging, function in cold, snowy regions, and to confirm other features.

Kawasaki's GIGACELL battery is tailored to large-scale applications, with quick charge/discharge capabilities. It is safe, environmentally friendly and easily disassembled and recycled. It also contains no hazardous materials such as lead, sodium or lithium.

Train transport has enjoyed renewed attention as an energy-efficient, low CO2-emissions, environment-friendly solution to existing systems, which have contributed to grave environmental problems. Next-generation LRVs are especially appealing in Japan, offering a barrier-free, low-impact urban traffic alternative.
*GIGACELL is a trademark, or registered trademark of Kawasaki Heavy Industries, Ltd. in JAPAN and U.S.