Production of Side Thruster Units Reaches 3,000
Nov. 07, 2007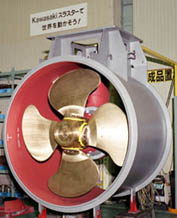 Tokyo, November 7, 2007 – Kawasaki Heavy Industries, Ltd. today announced that its cumulative production of Kawasaki side thrusters has reached 3,000 units.

In 1967, Kawasaki began manufacturing side thrusters, which provide ships with lateral thrust, at its Akashi Works (Akashi, Hyogo Prefecture) using technology introduced by U.K.-based Vickers. Since then, to cope with increasing demand for larger-sized units, vigorous R&D efforts have been made to develop new models. In 1971, Kawasaki designed and manufactured its first proprietary side thruster. The production site was then moved to Kobe Works (Chuo-ku, Kobe) in 1986, followed by the 1995 establishment of a joint venture, Wuhan Kawasaki Marine Machinery Co., Ltd., in China. New models of the KT, KT-N and KT-B are the result of continuing R&D efforts. Kawasaki is currently manufacturing the large KT-B5 Series (5 models, 1,800 – 3,500 kW) and the small-to-medium KT-B3 Series (7 models, 320 – 1,350 kW).

The buoyant shipping industry has been propelling sharp increases in the demand for side thrusters, used by container ships and ferries when they enter/leave the dock, as well as by research ships and offshore operation ships that require advanced maneuvering. Kawasaki will be manufacturing a record 350 units in the current fiscal year. Combined with the units to be manufactured and sold in China by Wuhan Kawasaki, the Kawasaki Group will become one of the largest suppliers of side thrusters in the world, with annual production of 500 units for new ships.