State-of-the-Art Dynamic Positioning System Delivered to National Fisheries University
Sep. 03, 2007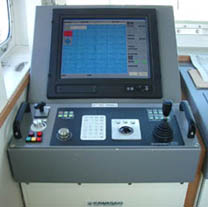 Tokyo, September 3, 2007 – Kawasaki Heavy Industries, Ltd. announced today that it has delivered the KICS*1-5000STN, Kawasaki's state-of-the-art dynamic positioning system (DPS)*2 for the auto-trawl system to be used on the National Fisheries University's Koyomaru training boat.

The KICS-5000STN is incorporated into the STN auto-trawl system jointly developed by the National Fisheries University, Nichimo Co., Ltd., Kawasaki Precision Machinery Ltd., and Kaijo Sonic Corporation. The KICS-5000STN is equipped with an automatic trawl control system that automatically guides the fishing equipment (trawling net) to wherever a school of fish is located. Kawasaki has fitted the highly acclaimed KICS-5000 DPS, which has been used in underwater electric cable installation, with an automatic tracking function that makes it more compatible with the STN system.

The KICS-5000STN has the following features.

(1) Automatic operation of the controllable pitch propellers, rudders and warp winches during trawling enables fishing equipment to automatically pass through the target location (a three dimensional location, including latitude, longitude, and altitude).

(2) The override function allows operators to change the target location when a school of fish has moved to another location.

(3) The location of fish, fishing equipment and vessels are identified by using a number of measuring instruments and graphically displayed on screen.

The latest delivery marks the fifth KICS-5000 series DPS to be installed on a ship. The STN system using the KICS-5000 is a model system for future trawling. Kawasaki will continue to respond to customer needs and develop technologies that will contribute to maritime transport, marine construction and marine resources development.

*1. Kawasaki Integrated Control System
*2. Dynamic positioning system (DPS) automatically controls a ship's propulsion devices and rudders in order to maintain the ship's position based on the positioning data from a GPS or other positioning systems.