Bulk Carrier
Anna-Maria

Launched

Aug. 03, 2007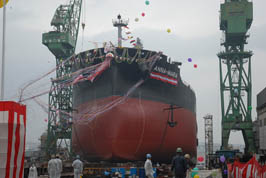 Tokyo, August 3, 2007 –Kawasaki Shipbuilding Corporation today launched the

Anna-Maria

bulk carrier for Panama-based Handbell Shipping S.A. at its Kobe Shipyard. The carrier, identified as Kawasaki hull No. 1604 and the 16th 55,100 DWT bulk carrier developed by Kawasaki Shipbuilding, will be delivered in October 2007 after outfitting at the quay of the Shipyard.
The 189.9 m vessel has a flush deck with forecastle and five holds that are designed for optimum transport of grains, coals, ores and steel products. A new proprietary bow designed to reduce wave resistance allows the ship to operate with less fuel. Four 30 ton deck cranes are installed in the center in between hatch covers to enable cargo loading and unloading in ports where no cargo handling facilities are available. It is powered by a lightweight, compact Kawasaki-MAN B&W 6S50MC-C MK7 high-output engine.