NYC Transit to Order Additional 260 Subway Cars
Jul. 26, 2007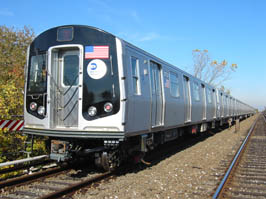 Tokyo, July 26, 2007 – Kawasaki Heavy Industry, Ltd. announced today that it has essentially received an additional order for 260 R160 subway cars from the MTA New York City Transit (NYC Transit*). The order, worth approximately 450 million dollars (54 billion yen), is scheduled for final delivery in August 2009.

In October 2002, Kawasaki and France's Alstom Transportation Inc. were jointly awarded an order for 660 subway cars from NYC Transit. Kawasaki has manufactured and is now in the process of delivering 260 of these cars. The contract also includes two options. The first option is for an additional 620 cars and the second option is for another 380 to 420 cars. NYC Transit has currently decided to exercise the first option. Kawasaki will manufacture 260 out of the total 620 cars.

Kawasaki is also serving as the engineering leader for the R160 contract, providing technical assistance that utilizes the experience it gained with the R143 car which the NYC Transit has had in revenue service since 2002. Kawasaki also supplies bogies for all of the R160 cars including those manufactured by Alstom.

The R160 subway cars have a stainless steel body and are equipped with highly reliable controls, HVAC, as well as door operating and public address systems to guarantee optimum safety and passenger comfort. The carbodies are manufactured at Kawasaki's railcar plant in Lincoln, Nebraska. Equipment installation, final assembly and testing are performed at its plant in Yonkers, New York prior to delivery to NYC Transit.

Kawasaki has started expanding its plant in Lincoln to increase production capacity for the future. This will enable the concurrent production of R160 cars for NYC Transit and 340 new PA-5 commuter train cars ordered by the Port Authority Trans-Hudson Corporation (PATH) in 2005. Production of the R160 cars is scheduled to end in 2009. Once that happens Kawasaki plans to begin concurrently manufacturing the PA-5 cars and 300 M-8 AC/DC electric passenger cars ordered by Metro-North Railroad (MNR) in 2006. The PA-5 cars and M-8 cars are scheduled for delivery by 2011 and 2012 respectively.

Since its initial delivery of 325 R62 subway cars to NYC Transit in 1985, Kawasaki has received orders for 1,939 cars in total. Once all of its R160 cars are delivered, including those under the contract option, Kawasaki will have manufactured the major share of NYC Transit's entire subway cars. The latest order is a testament to Kawasaki's proven track record with NYC Transit as well as its superior technological capability.

*NYC Transit is a public railway company affiliated with the Metropolitan Transportation Authority (MTA). Other MTA-affiliated transit services include the Long Island Rail Road and Metro-North Railroad.