LPG Carrier
BW Broker

Delivered

Jun. 29, 2007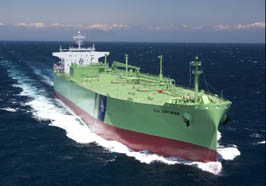 Tokyo, June 29, 2007 – Kawasaki Shipbuilding Corporation today delivered

BW Broker

, an 80,000 m3 LPG carrier, to Fair Wind Navigation S.A. The carrier, identified as Kawasaki hull No. 1583, is the 41st LPG carrier built by Kawasaki Shipbuilding and the second of the same model.

The 226 m long vessel employs Kawasaki's SEA-Arrow (Sharp Entrance Angle bow as an Arrow) to minimize bow wave resistance and significantly boost propulsive performance. It is equipped with four independent cargo tanks housed in the cargo hold compartments, which are able to absorb temperature contractions for the storage of low-temperature liquefied gas. These urethane foam insulated tanks are made of special steel with low-temperature resistance characteristics that can hold LPG at temperatures as low as -46°C. The carrier is driven by the Kawasaki-MAN B&W 7S60MC-C diesel engine, an energy-saving, ultra-long stroke, two-cycle, low-speed diesel engine. The Kawasaki rudder bulb with fins (RBS-F) has been employed to achieve maximum fuel economy.