12-MW Combined Cycle Power Plant Delivered to Ajinomoto's Indonesian Subsidiary
Apr. 24, 2007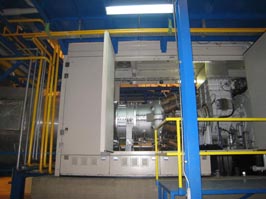 Tokyo, April 24, 2007 – Kawasaki Heavy Industries, Ltd. announced today that Kawasaki Gas Turbine Asia Sdn Bhd, Kawasaki's Kuala Lumpur-based gas turbine sales and service base for Southeastern/western Asia, and the Indonesian engineering firm, PT Euroasiatic have jointly delivered a combined cycle power plant to Ajinomoto Co., Inc.'s Indonesian subsidiary.

The system is comprised of a natural gas-fueled gas turbine power generation system employing Kawasaki's proprietary 7,000 kW class M7A-02 gas turbine, a heat recovery steam boiler and a steam turbine generator. It will generate 12,000 kW electricity and 55 tons/hour of steam, which will be supplied to Ajinomoto's production facility. The system will boost energy savings with an overall efficiency of over 90% and will also reduce the facility's CO2 emissions by approximately 20%. An environmentally-friendly low NOx combustion chamber has also been employed to reduce NOx emissions. Kawasaki supplied the gas turbine generator and the steam turbine generator, while PT Euroasiatic supplied the boiler, auxiliary equipment and installation work.

Since 1994 Kawasaki has delivered a total of 18 gas turbines for use as cogeneration and emergency power generation systems to the Indonesian market. The M7A-02 gas turbine, the core component of the power plant delivered to Ajinomoto, is one of Kawasaki's flagship products. Kawasaki has received orders for six M7A-02 gas turbines including orders received in 2004 and 2006. This latest order is a testament to the superior environmental performance and lifecycle cost of Kawasaki gas turbine cogeneration systems as well as Kawasaki's outstanding technological capabilities, proven track record in the Indonesian market and excellent customer support services.